Spartans Host UD Sol Butler Classic to Open Up 2016 Indoor Track Season
Jan 15, 2016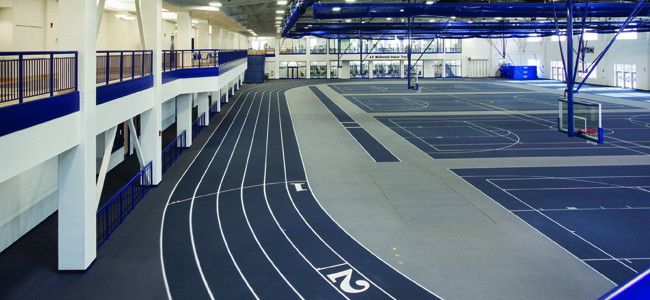 Student-athletes in the 10-team field will compete on the A.Y. McDonald Indoor Track in the Chlapaty Recreation and Wellness Center on January 16.
LIVE LINK
UD Sol Butler Heat Sheets
DUBUQUE, Iowa - The University of Dubuque men's and women's track and field teams open up the 2016 season when they host the UD Solomon Butler Classic this Saturday, January 16 on the A.Y. McDonald Indoor Track. Tickets are $6 for adults and $3 for children.

UD will compete in it's second meet of the indoor season after facing Loras in the Spartan-Duhawk Dual on December 5. No team scores were kept between the two schools, but the Spartans won 12 of the combined 23 events in one of the earliest meets in all of Division III.
UD Solomon Butler Classic teams competing include: Augustana College, Carroll University, Clarke University, Coe College, Cornell College, Loras College, Monmouth College, Mount Mercy University, North Iowa Area Community College, University of Dubuque, and William Penn University.
Tentative Schedule:
Field Events
10:30 a.m. Weight Throw – Men (5 flights) followed by women (4 flights) in cage
‌10:30 a.m. Shot Put – Women followed by men in ring (Flights: 4 women, 4 men)
‌10:30 a.m. Long Jump – Women (2 flights) followed by men (2 flights) / Triple Jump – Women (2 flights) followed by men (2 flights) after Long Jump
‌10:30 a.m. High Jump – Men (16) followed by women (21)
‌10:30 a.m. Pole Vault – Women (20) followed by men (18)
Rolling Time Schedule – We will move ahead when possible
Running Events
11:00 a.m. Women's 4x800M Relay (1 section)
11:15 a.m. Men's 4x800M Relay (1 section)
11:25 a.m. Women's 55M High Hurdle Prelims (4 sections)
11:40 a.m. Men's 55M High Hurdle Prelims (4 sections)
11:55 a.m. Women's 55M Dash Prelims (7 sections)
12:10 p.m.Men's 55M Dash Prelims (8 sections)
12:35 p.m.Men's 55M High Hurdle Final
12:45 p.m. Women's 55M Hurdle Final
12:55 p.m. Women's 55M Dash Final
1:00 p.m. Men's 55M Dash Final
1:05 p.m. Women's Mile (3 sections)
1:30 p.m. Men's Mile (4 sections)
2:00 p.m. Women's 400M Dash (5 sections)
2:20 p.m. Men's 400M Dash (6 sections)
2:45 p.m. Women's 4x200M Relay (2 sections)
2:55 p.m. Men's 4x200M Relay (3 sections)
3:10 p.m. Women's 3,000M Run (2 sections)
3:40 p.m. Men's 3,000M Run (2 sections)
4:05 p.m. Women's 600M Run (4 sections)
4:25 p.m. Men's 600M Run (4 sections)
4:45 p.m. Women's 4x400M Relay (3 sections)
5:10 p.m. Men's 4x400M Relay (4 sections)