Joseph Named 2017 Cliff Harris Award Winner
Dec 31, 2017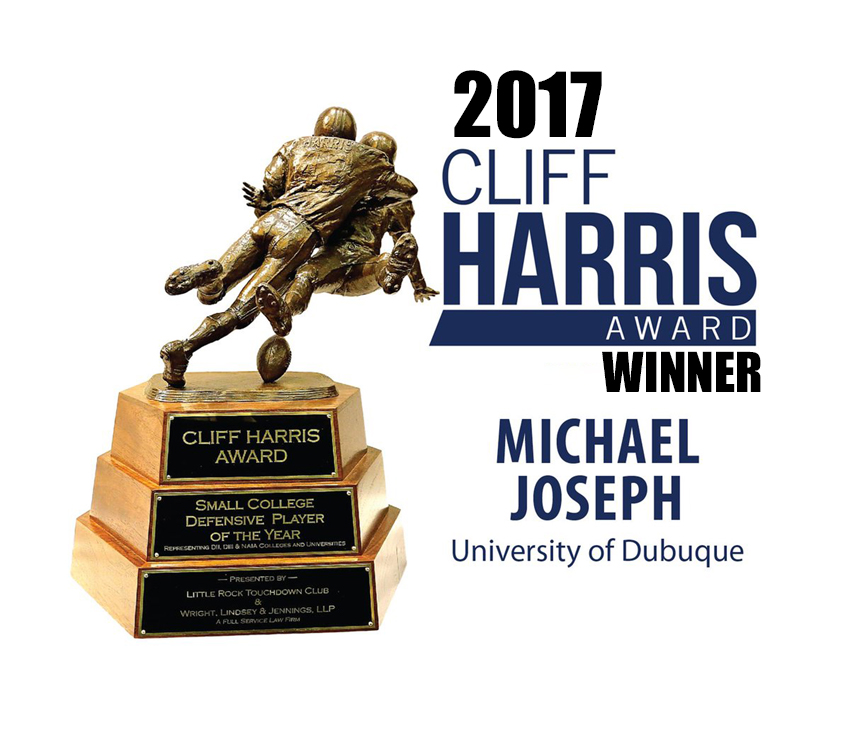 http://cliffharrisaward.com/
Michael Joseph Video Highlights 2017
LITTLE ROCK, Ark. - The University of Dubuque's Michael Joseph was named the 2017 Cliff Harris Award winner for Best Small College Defensive Player of the Year (NCAA Division II, NCAA Division III, and NAIA) in football on Saturday, Dec. 23. An early Christmas gift for the Oswego, Ill. native, who graduated on Dec. 14. with a degree in sports marketing.
He is the winner of the 5th Annual Cliff Harris Award named by the the Little Rock Touchdown Club and Wright, Lindsey & Jennings LLP awarded to the best small college defensive player representing more than 5.000 defensive players from almost 500 NCAA Division II, Division III, and NAIA universities and colleges. The finalists were announced earlier this week. He will be honored at the Little Rock Touchdown Club's annual award banquet on January 11, 2018. The winner will received the $3,000 CLIFF HARRIS AWARD trophy presented by Cliff Harris along with featured speaker NFL Hall of Famer and former Heisman Trophy Award winner Marcus Allen.
The Cliff Harris Award recognizes the top vote recipients from all three divisions.
Division III & overall winner
Michael Joseph, 6'1 180, Sr. Defensive Back, University of Dubuque
Division II - TIE
Marcus Martin, 6'2 255, Sr. Defensive Lineman, Slippery Rock (Pa.)
Nathan Shepherd, 6'5 300, Sr. Defensive Lineman, Fort Hays State
NAIA
Darius Price, 6'2 215, Sr. Defensive Back, Siena Heights

Cliff Harris was born in Fayetteville, spent most of his formative years in Hot Springs and graduated from high school at Des Arc. He played multiple sports growing up but received little interest from college recruiters. A family friend convinced second-year Ouachita Baptist University head coach Buddy Benson that Harris deserved a chance to play college football, and Harris made a name for himself in the Arkansas Intercollegiate Conference from 1966-69. Harris' father had starred in football at Ouachita in the 1940s.
Harris was overlooked in the 1970 NFL draft. But Gil Brandt, who headed the legendary scouting operation for the Dallas Cowboys, was well aware of the player at the small school in Arkadelphia. Harris, in fact, won a starting position with the Cowboys as a rookie in 1970. His rookie season was interrupted by a tour of duty in the U.S. Army, but Harris wasted no time regaining his starting position following his military commitment.
During the next decade, the hard-hitting Harris changed the way the position of free safety was played in the NFL. He rarely left the field, often leading the team not only in interceptions but also in yardage on kickoff and punt returns. In just 10 years as a Cowboy, Harris played in five Super Bowls (the Cowboys won two of them), was named to the Pro Bowl six times and was named a first-team All-NFL player for four consecutive seasons by both The Associated Press and the Pro Football Writers Association.
Harris was inducted into the Arkansas Sports Hall of Fame in 1985 and the Dallas Cowboys Ring of Honor in 2004. He also was named to the Dallas Cowboys Silver Season All-Time Team and was selected by Sports Illustrated as the free safety on the magazine's All-Time Dream Team. Harris was awarded the NFL Alumni Legends Award. For years, the Cliff Harris Celebrity Golf Tournament has been one of the leading charity events in the Dallas-Fort Worth area and Harris also heads the FCA Charity Golf Tournament in Hot Springs.

PAST CLIFF HARRIS AWARD WINNERS:
2016 – Division II & Overall Winner- Connor Harris, Linebacker – Lindenwood Univeristy
Division III – Chyron Brown-Wallace - Defensive Tackle, St. Lawrence University
NAIA – Sam Van Ginkel - Defensive End, Northwestern College
2015 – Division II & Overall Winner- Marquis Christian, Safety – Midwestern State Univeristy
Division III – (TIE) Ryan Aelker – Blufton University / Tom Lally – Mount Union
NAIA – Adam Sauder – Taylor University
2014 – Division II & Overall Winner- Darius Allen, Defensive End – Colorado State-Pueblo
Division III Tyre Coleman, Defensive End – Hobart & William Smith Colleges
NAIA – (TIE) Takari Johnson- Concordia Ann Arbor & Ty Phillips – Missouri Valley College
2013 – Division II & Overall Winner – Pierre Desir, Cornerback – Lindenwood University
No Division III or NAIA recipients
Joseph signed with Sportstars Inc., a full-service athlete management firm based in New York City, with satellite offices in St. Louis, MO, and Corvallis, OR, who have been representing NFL players for 30 years. Sportstars Inc. is well known for its superior track record in contract negotiations and the close personal relationships they maintain with their clients and families. Sportstars objective is to maximize the value of our clients' contracts throughout their careers and secure their futures for life after football.
Joseph will represent the University of Dubuque, Iowa Intercollegiate Athletic Conference, and NCAA Division III in the 2018 prestigious 69th Resse's Senior Bowl which will be played on January 27th, 2018 in Mobile, Ala. at Ladd-Peebles Stadium at 1:30 p.m. (CST). NFL Network will broadcast practice recaps and highlights, as well as the game.
No Division III players participated in last year's game, with Joseph being one of two Division III players to be highlighted among the 2018 Senior Bowl watch list. The last time a player from the Iowa Conference was selected to participate was Brad Hustad (back) in 1960 from Luther College.
Joseph led the Iowa Conference with eight interceptions and was tied for third in passes intercepted per game nationally in Division III. Twice he recorded three interceptions in a game and also added 16 passes defended, eight pass break ups and 56 tackles. He also added a 96 yard kick off return for a touchdown on his first and only career kick off return opportunity this season.
-30-