2018-19 Men's Basketball Awards Banquet
May 3, 2019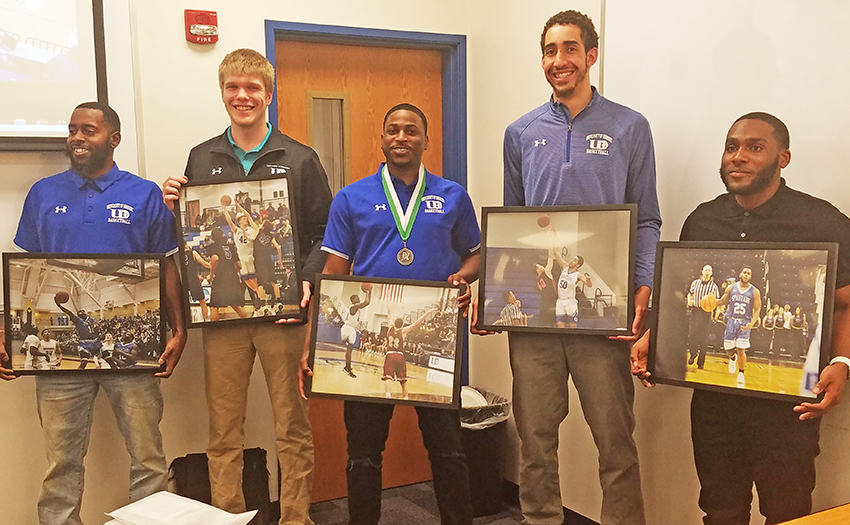 The Spartans honored five seniors on Wednesday night for their dedication to the men's basketball program the past four seasons.
DUBUQUE, Iowa - The University men's and women's basketball team held their 2018-19 Awards Banquet on Wednesday, May 1. The Spartans started the season 10-3 and finished the season 14-13 overall and 6-10 in conference play which included regular season sweeps over ranked Loras College and a game in which they led NCAA Division I University of Northern Iowa well into the second half of action.
UD set a record for season three point shots taken with 725 in 2018-19. The Spartans led the American Rivers Conference (A-R-C) in offensive rebounds with 12.9 a game, first in attendance with 776 per home game, were second in blocks per game with 2.9 and third in field goal defense at 43.8%. Avery Butler collected A-R-C Player of the Week honors for his efforts on the court for the week of Nov. 12. Butler scored 39 points against Greenville College during the week. Marcus McDaniel joined him by claiming the A-R-C POW honors twice during the year (Dec.3 and Feb. 4). Mike Williams was named to the All-Tournamewnt Team at the 2018 Loras Classic. McDaniel cemented his name in the record books by sinking nine three point shots in a game against #1-ranked Nebraska Wesleyan (he had seven, three point baskets in the first half).
Henry Thompson, Will Bentley, Mason Horton, and Ben Cash all earned A-R-C Academic All-Conference Honors. McDaniel was named A-R-C Second Team, Avery Butler was named A-R-C Honorable Mention.
Junior Varsity Team Awards:
Most Improved - Cody Sanderson (Freshman, 5-10, guard, Fulton, Ill./Fulton H.S.)
Coaches - Trent Fitzpatrick (Freshman, 5-10, guard, Davenport, Iowa/Assumpstion H.S.)
Defensive - Luke Harper (Sophomore, 6-2, guard, Belvidere, Ill./Rockford Lutheran H.S.)
Most Valuable Performer - Luke Harper (Sophomore, 6-2, guard, Belvidere, Ill./Rockford Lutheran H.S.) and Trent Fitzpatrick (Freshman, 5-10, guard, Davenport, Iowa/Assumpstion H.S.)
Varsity Team Awards:
Nwecomer - Avery Butler (Junior, 6-6, forward, Dubuque, Iowa/Hempstead H.S.)
Sixth Man - Mitchell Burger (Sophomore, 5-10, guard, Cedar Rapids, Iowa/Xavier H.S.)
Most Improved - Dylan Hundley (Sophomore, 6-3, guard, Camanche, Iowa/Camanche H.S.)
Coaches - Lucas Daniels (Senior, 6-7, center, Dewitt, Iowa/Dewitt Central H.S.)
Defensive - Deonte Newsome (Senior, 6-2, guard, Milwaukee, Wis./Messmer H.S.)
Spartan - Marcus McDaniel (Senior, 5-10, guard, Roselle, Ill./Lake Park H.S.)
Most Valuable Performer - Marcus McDaniel (Senior, 5-10, guard, Roselle, Ill./Lake Park H.S.)