Duo of Spartans Grab All-Conference Selections
Feb 28, 2019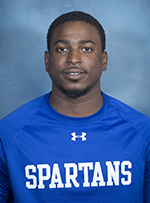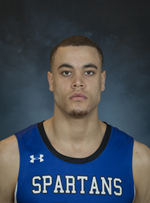 CEDAR RAPIDS, Iowa – The American Rivers Conference announced the members of the 2018-19 All-Conference basketball team on Wednesday, naming UD men's basketball players Marcus McDaniel and Avery Butler to the list. McDaniel received second team honors, with Butler grabbing honorable mention.
After averaging 10.9 points per game in his junior campaign in 2017-18, Marcus McDaniel had a significant bump in his scoring average during his senior season as he led the Spartans in scoring with 16.1 points per game in 2018-19 to earn Second Team All-Conference honors. The senior guard from Roselle, Illinois, also dished out a team-high 2.7 assists per game. McDaniel played in and started all 27 of the Spartans games in the 2018-19 season, helping UD to an American Rivers Conference Tournament berth. To go along with the 27 starts, no other Spartan played more minutes than McDaniel at 29.0 minutes per game.
In the Spartans first match-up against #1 ranked Nebraska Wesleyan on December 1st, McDaniel would go off for a career-high 32 points, while hitting a school-record nine three pointers on 15 attempts. McDaniel reached double figures in all but three games and scored 20 points or more on nine difference occasions.
In his first season at UD, Avery Butler grabbed Honorable Mention All-Conference honors. In just the second game of the year and the home opener, Butler went off for 39 points on 18-20 shooting in a victory over Greenville. The local product from Dubuque would go on to average 11.3 points per game, the second highest mark of any Spartan. Butler would also finish second on the team in rebounds with 6.7, just 0.3 behind team-leader, Michael Williams.
| | |
| --- | --- |
| Most Valuable Player | School |
| Ryan Garver | Nebraska Wesleyan |
| Defensive Player of the Year | School |
| Ryan Garver | Nebraska Wesleyan |
| First Team | School |
| Nolan Timp | Coe |
| Josh Ruggles | Loras |
| Ryan DiCanio | Loras |
| Cooper Cook | Nebraska Wesleyan |
| Nate Schimonitz | Nebraska Wesleyan |
| Conor Riordan | Simpson |
| Cam Kickbush | Wartburg |
| Jaran Sabus | Wartburg |
| Second Team | School |
| Timothy Jeffries | Buena Vista |
| Jamel McKnight | Central |
| Jaden Moody | Central |
| Adam McDermott | Coe |
| Marcus McDaniel | Dubuque |
| Demond George | Loras |
| Adam Reiter | Simpson |
| Kyle Wagner | Simpson |
| Honorable Mention | School |
| Calvin Winker | Coe College |
| Avery Butler | Dubuque |
| Jordan Boyd | Loras |
| Clay Reimers | Nebraska Wesleyan |
| Jack Hiller | Nebraska Wesleyan |
| Max Smith Drahos | Wartburg |