Ellis and Kueter Garner A-R-C Player of the Week Awards
Apr 22, 2019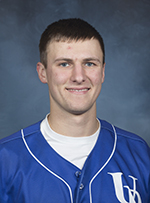 CEDAR RAPIDS, Iowa – Baseball's Chase Kueter and Isaiah Ellis from men's track and field have been named American Rivers Conference Player of the Week for their respective sports.
Chase Kueter had a dominant week on the mound, starting two conference games and picking up two wins in the process on his way to American Rivers Conference Pitcher of the Week. Kueter would throw 17.0 innings in his two starts, fanning 20 hitters, while only surrendering five runs, of which only four were earned. On April 20th, Kueter threw a complete game in UD's 5-3 win over Central to give them the series win.
With his two wins last week, he moved to second in career wins in school history, with 18, one behind the career leader. He also broke his own single season strikeout record and currently sits at 81 strikeouts for the 2019 season.
Isaiah Ellis had an impressive performance on the track at the 2019 UD Good Friday Open and he helped lift the Spartan men to 276 team points as they cruised to the team point title to protect home track. Ellis picked up three first place finishes on Friday in the 100m dash, 200m dash and the 4x100 relay. His 100m dash winning time of 10.76 is the best time in the American Rivers Conference and his 200m time of 21.86 is the second best in the conference.