Men's Golf Runner-up at Loras Invite
Apr 8, 2019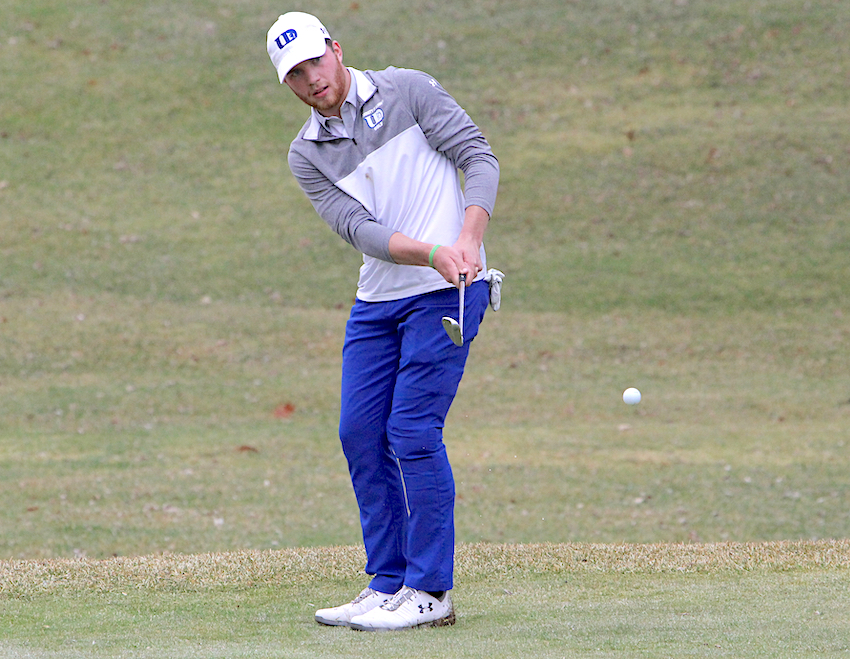 Peyton Keeffer (So. Stockton, Ill./Stockton H.S.) fired the low round for the Spartans 79-75-154 at the Loras College Invite on April 7-8. The Spartans continue play this weekend at the Augustana College Invite on April 12-13 and at Nebraska Wesleyan Univ. Invite on April 14-15.

PEOSTA, Iowa - The University of Dubuque men's golf team opened with a round of 314 on Sunday and shot the second lowest score in the second round at Thunder Hills Country Club to finish in second place. Kane Hyde finished the meet 77-78-155 along with Brady Ellis - 78-77-155, Jordan Elliott - 78-77-155, Garvin Paper - 81-74-155, and Jason Sikkema - 88-77-165.
The Spartans individuals scores were: Peyton Keeffer - 79-75-154, Conner Michels - 80-79-159, Levi Swanson - 79-85-164, and Wyatt Wagner - 90-78-168.
TEAM SCORES:
1. Loras A - 309-308-617 +49
2. University of Dubuque - 314-305-619 +51
3. Luther - 318-304-622
4. Saint Mary's - 316-308-624
UW-Stout - 309-315-624
6. Clarke Gold - 315-313-628
7. Waldorf - 317-315-632
8. Loras B - 315-324-639
9. Clark Blue - 334-334-668
10. Loras C - 350-350-700