Men's Lacrosse Loses Heartbreaker in Overtime
Apr 24, 2019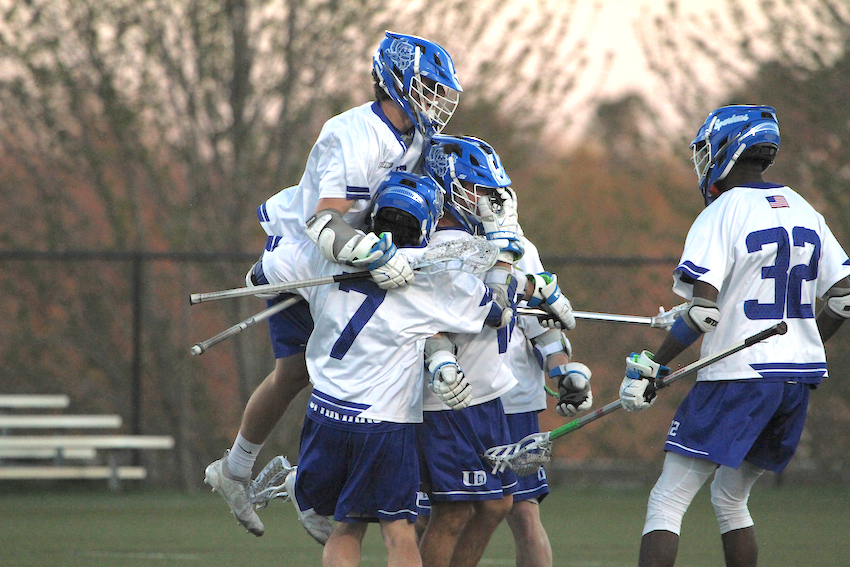 DUBUQUE, Iowa – The University of Dubuque men's lacrosse team rallied late to force overtime but North Central got the golden goal to upend the Spartans in the home finale, 6-5.
North Central scored first at the midway point of the first quarter. UD answered back with two goals in the final 3:47 of the quarter. Michael Jango scored the first of the two goals for the Spartans when he raced past Cardinal defenders and fired it past the goalie. Jake Herman followed Jango for the second goal to give UD the brief lead off of a Joey Maniaci pass.
The Cardinals evened up the score at two all 4:27 into the second quarter before retaking the lead right before half after finding the back of the cage with 2:34 remaining until halftime. The first half was about as even as could be as UD attempted just one more shot than North Central, both teams scooped up 13 ground balls and split face-offs in half.
Both defenses dominated the third quarter as the score remained the halftime score of 3-2 until North Central took advantage of a UD foul and scored with just 11 seconds left in the third quarter to make it 4-2 in favor of North Central heading into the final quarter.
In the fourth, Nick Wallace scooped up a ground ball, raced the whole length of the field and sent a rocket right into the net to get UD within one goal with 11:10 left. Less than two minutes later the Cardinals would respond with a goal of their own to push the UD deficit back to two goals.
The Spartans would not go away quietly, Michael Jango recorded a man-advantage goal with 6:10 left to make it 5-4 and with 2:02 remaining in the fourth, Herman sent bouncing shot into top half of net, to get back to even at 5-5.
The Spartans committed a penalty as time was winding down in regulation, giving the Cardinals a man-advantage opportunity for the first minute of overtime. UD withstood the first minute playing a man down but another UD was called for another penalty late in the first overtime. This time they were not able to contain North Central and the Cardinals scored with 31 seconds left in overtime to upend the Spartans.
In his final home game Michael Jango recorded two goals on nine shots and picked up two ground balls. Jake Herman also found the net twice but on just five shots. UD goalie and senior Sam Kopecky stopped nine Cardinal shots on Wednesday night.
The Spartans did win the battle in the faceoff circle, winning 9 of 14 opportunities. Of those nine wins, Ethan Senesac recorded five of them, while Dominic Mulcahy won the other four.
The UD men will wrap up their season on at Northland College. Game time is set for noon in Ashland, Wis.