Spartans Rally From Behind for 9-6 Victory
Mar 27, 2019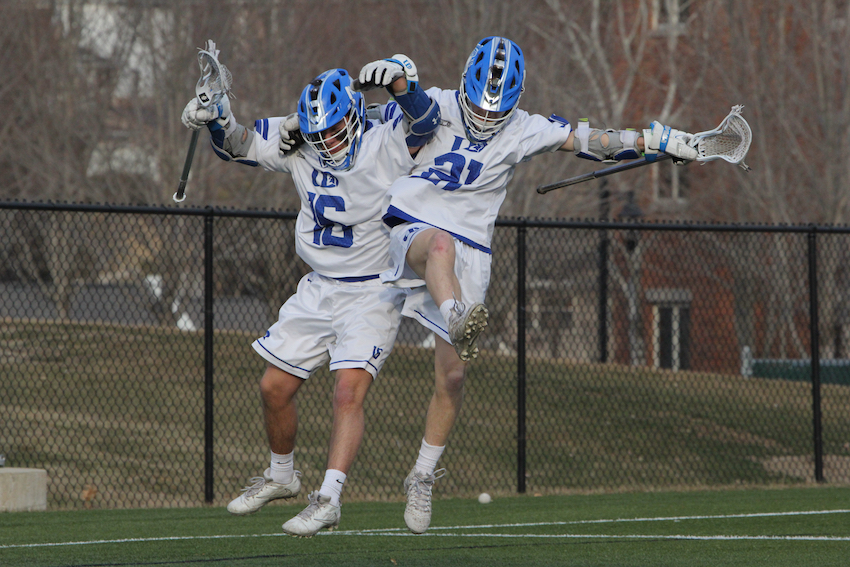 DUBUQUE, Iowa – The University of Dubuque men's lacrosse team won their second game in as many nights after coming from behind to upend Concordia Chicago, 9-6.
The Spartans carried over the momentum from their overtime win on Tuesday night to the beginning of Wednesday night's game against Concordia Chicago. Michael Jango recorded an assisted goal from Tanner Weis less than three minutes in to get the scoring started. Five minutes later Davis Behrns got an unassisted goal to build an early 2-0 lead through the first 15 minutes of play.
The Concordia Chicago Cougars got hot in the second quarter, scoring four unanswered goals to vault ahead, 4-2. The Spartans were able to cut their deficit in half before halftime as Michael Jango raced one in past the goalie with 31 seconds left in the half.
UD was able to knot the score up at four in the early portion of the third quarter when Noah Hughes-Reilly found Tanner Weis for the goal. However, the tie score did not stay for long as the Cougars responded with back-to-back goals of their own to move back ahead by two goals.
With both teams playing a player down, Jake Herman brought the Spartans within one heading into the fourth quarter with an assisted goal from Tanner Weis. UD would not let up after the Herman goal, at the 10:55 mark of the fourth quarter, the Spartans once again evened it up with Michael Jango's third goal of the game.
UD grabbed their first lead since the first quarter when Davis Behrns found the back of the next, just 80 seconds after Jango did. The Spartans would never trail again, getting a fast break goal from Gavin Hughes with 5:48 remaining and Joey Maniaci would put an exclamation point on the game with his third goal of the season with 1:30 left on the clock.
The Spartans were aggressive all night on offense, outshooting the Cougars by a 46-31. The Spartans gave the Cougars eight extra man opportunities, but the UD defense stepped up in those situations, only allowing one goal on the eight chances.
Seven different Spartans found the scoring column on Wednesday night, led by Tanner Weis, who collected four points on one goal and three assists. Jango and Davis Behrns were right behind with three points of their own.
The Spartans return to action next Wednesday, April 3rd at 4:00 p.m. at Augustana College in Rock Island, Illinois.