UD Football Alum Oscar White Earns Spot on San Antonio Commanders
Nov 29, 2018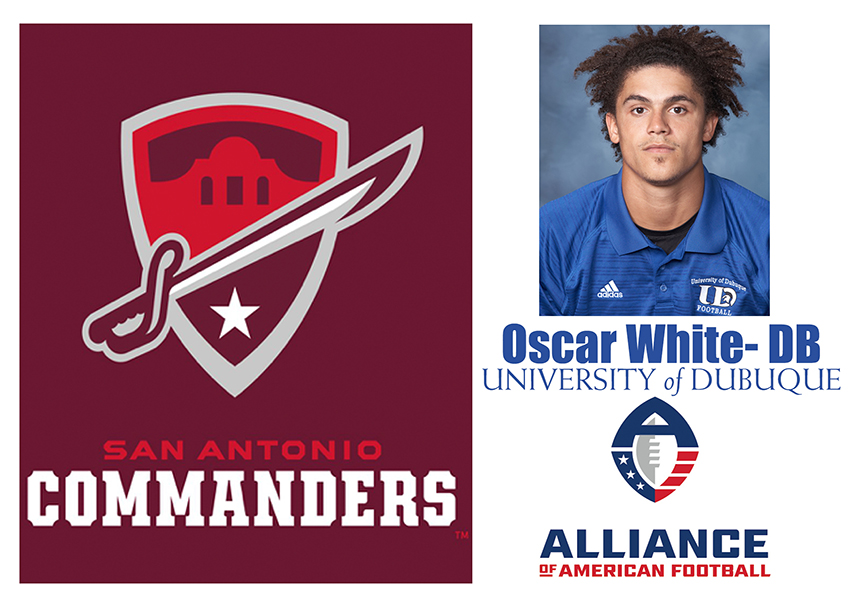 DUBUQUE, Iowa - The University of Dubuque's Oscar White (Cl'16) a native of River Falls, Wis., earned a spot on the San Antonio Commanders team as a defensive back among the Alliance of American Football League which begins in February on CBS. White played on the Spartans 2015 IIAC Championship Team which never lost a game in conference play (7-0). He finished with 37 tackles, 10 pass deflections, nine pass break-ups, and an interception. He earned First Team All-Iowa Conference honors as a defensive back and was named the team's Defensive MVP.
Led by some of the most respected football minds in the game, The Alliance of American Football is high-quality professional football fueled by a dynamic Alliance between players, fans and the game. Television and film producer Charlie Ebersol, Pro Football Hall of Famer Bill Polian, four-time All-Pro Jared Allen and two-time Super Bowl champions Justin Tuck and Troy Polamalu announced the creation of The Alliance of American Football (AAF) earlier this year, which is expected to begin play on February 9, 2019. The league intends to begin with eight teams and already has a contract in place with CBS to air a 10-week regular season with games primarily played on Sundays and that finishes with a four-team playoff.
The AAF will eliminate all kickoffs. Teams will start on the 25-yard line after a score. In place of an onside kick, teams will get the ball on their own 35-yard line and have to gain at least 10 yards on one play to keep it. The league will have no extra points -- all teams must attempt a two-point conversion. The league will have shorter play clocks and fewer commercial breaks in an effort to have games last no longer than two-and-a-half hours. Ebersol also said that the league will put in several safety measures, including banning the three-point stance, which Ebersol said contributes to head injuries. All players will have bonus structures based on wins, stats and fan engagement. The league will give them post-football career scholarships based on the number of years they play in the league. It also will provide financial wellness programs to players.
Football fans will be able to stream Alliance matchups live via the free Alliance app while accessing integrated fantasy options with real rewards — for themselves and the players they are cheering on. The Alliance features eight teams, under a single entity structure, playing a 12-week season kicking-off February 9, 2019 on CBS and culminating with the championship game the weekend of April 26-28, 2019.Additionally, The Alliance of American Football says that average ticket prices will be $35.
"As the Alliance of American Football launches in February we are excited to become the official television partner, adding more football to our robust programming line-up with a great package that includes two primetime games on CBS, as well as a full slate of regular-season spring football on CBS Sports Network," said CBS Sports Chairman Sean McManus. "With Charlie Ebersol and Bill Polian at the helm we are confident that the product they will deliver will be entertaining, exciting, engaging and something that fans will really enjoy."
Division III Players:
Oscar White – University of Dubuque (San Antonio Commanders) DB
Michael Baird – UW-Platteville (Atlanta Legends) G
Donteea Dye – Heidelberg University (Orlando Apollos) WR
Ryan Schmidt – St. Lawrence University (Orlando Apollos) T
Blake Jackson – Mary Hardin-Baylor (Salt Lake Stallions) WR
Linkoln LaRoche – Bluffton University (Atlanta Legends) DT
Andrew Franks – Rensselear Polytechnic (Orlando Apollos) K
Brandon Neal – Thomas More University (Memphis Express) DB
Aamir Petrose – Wesley College (San Antonio Commanders) DE
Demetrios Tsesmetzis – Western Connecticut State University (San Antonio Commanders) TE
Iowa Colleges:
Ross Westphal – Upper Iowa University (Atlanta Legends) G
Elijah Campbell – University of Northern Iowa (Birmingham Iron) DB
Jacob Duzey – University of Iowa (Birmingham Iron) TE
Oni Omoile – Iowa State University (Memphis Express) C
Kamari Cotton-Moya – Iowa State University (Arizona Hotshots) DB
Jarnor Jay Jones - Iowa State University (Arizona Hotshots) DB
-30-