Wrestling Place Two in Semifinals of NCAA DIII Lower Midwest Regional
Feb 23, 2019

Greg Krulas working on the fall in his second match of the day. He would win the match 7-2 and reach the championship semifinals.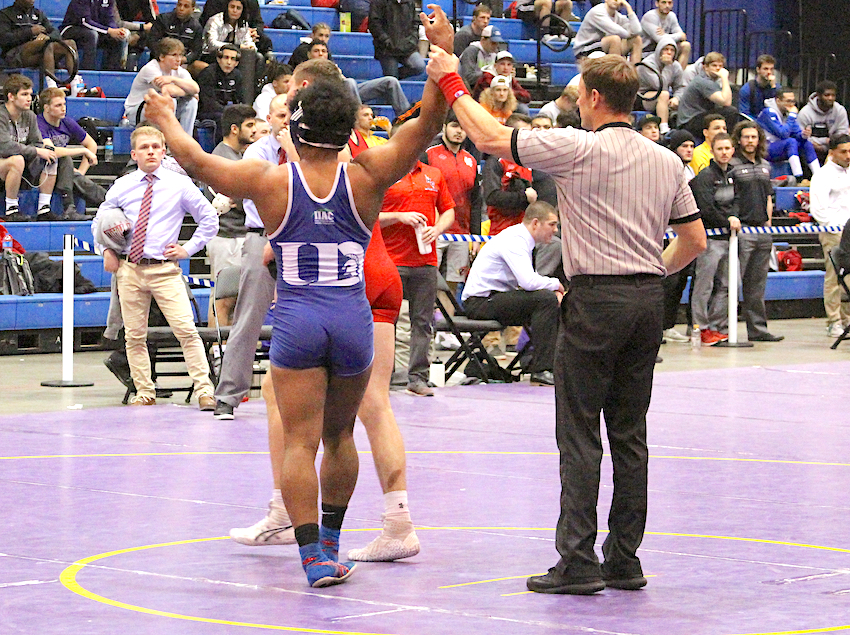 Tevin Bailey won 12-9 over Griffin McCride of Huntingdon to reach the championship semifinals at 184 lbs. weight class.
2019 Lower Midwest Regional Brackets
2019 Lower Midwest Regional Team Scores
DUBUQUE, Iowa - The University of Dubuque wrestling team finished the first day of the 2019 NCAA Division III Lower Midwest Regional with a pair of semifinalists. The Spartans finished 2-0 at 149 lbs. when Greg Krulas (Jr., Freeport, Ill./Dakota H.S.) captured a fall in the opening round in :56 over Nebraska Wesleyan University's Kendrick Frazier. He won 7-2 in the second round over Sean Sax of Westminster College to reach the championship quarterfinals. He will meet Kevin Kelly of Loras in the semifinals who also won his match by a 7-2 score.
Tevin Bailey (So., Reno, Nev./Damonte Ranch H.S.) pinned Loras College's Samuel Schuler in the first period of the opening match in 2:05. In Bailey's second round match, he battled for a hard fought 12-9 victory over Griffin McBride of Huntingdon College to reach the championship quarterfinals. He will face Cornell College's Bryce Oveson in the semifinals who won a sudden victory match 3-1 over Wartburg's Isaiah Cox.
The NCAA Division III Lower Midwest Regional is hosted by Loras College will include 17 teams: Augustana College, Buena Vista University, Central College, Coe College, Cornell College, University of Dubuque, Huntingdon College, Loras College, Luther College, MacMurray College, Milikin University, Nebraska Wesleyan University, North Central College, University of the Ozarks, Simpson College, Wartburg College and Westminster College.
Meet will begin at 11 a.m. on Sunday, Feb 24. The Spartans have two individuals in the d3wrestle.com rankings from Feb. 6, 2019: Greg Krulas is an Honorable Mention at 149 lbs. and Ethan Cain is Honorable Mention at 197 lbs. The top-three place winners will advance to the 2019 National Championships held in Roanoke, Va. on March 8-9, 2019.

One Day Pass
Adult: $15
Senior/Student with ID: $12
Schedule of Events:
Sunday, February 25, 2018
8 a.m.–10 a.m. Mats Available for Practice - (Five Flags Center)
10 a.m. Skin Check/Weigh-Ins
10:15 a.m. Doors Open for Spectators
11 a.m. Championship Semifinal/Consolation Third Round
1 p.m. Consolation Semifinals
2:30 p.m. Championship/3rd/5th/7th Place Matches