Cheer and Stunt
The University of Dubuque Cheer and Stunt team is at the forefront of Spartan athletics, providing the `Blue and White' not only at athletic events, but at events throughout the campus community. The Cheer and Stunt team is under the care of the University of Dubuque Athletics Department. The student-athletes that make up the squad attend camps in the summer, travel to post-season games as well as men's and women's basketball tournaments, and compete in national competitions.
The University of Dubuque team is comprised of a co-ed core of performers who lead the crowd at football, men's basketball, women's basketball, and other events. Members of the cheerleading squad follow the NCAA-mandated AACCA guidelines while at games, events, and practice.
Become a Spartan!
If you're interested in cheer and stunt at the University of Dubuque, complete the prospect form, and a coach will be in touch.
Roster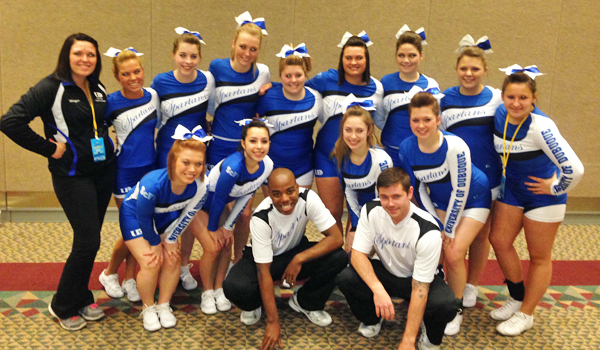 | | Name | Position | Event | Height | Weight | Year | Hometown |
| --- | --- | --- | --- | --- | --- | --- | --- |
| | Maggie Brandel | | | | | Freshman | Decorah, Iowa |
| | Janae Caruthers | | | | | Freshman | Davenport, Iowa |
| | Kaitlyn Corkery | | | | | Freshman | Fairbank, Iowa |
| | Bailey Gronewold | | | | | Junior | Wheatland, Iowa |
| | Chamayze Hall | | | | | Freshman | Rockford, Ill. |
| | Caroline Haugen | | | | | Freshman | Davenport, Iowa |
| | Annalise Hauk | | | | | Freshman | Lancaster, Wis. |
| | Christine Lurhuma | | | | | Junior | Wiesbaden, Germany |
| | Alleyah Melendez | | | | | Freshman | Davenport, Iowa |
| | Tyana Mumm | | | | | Senior | Winnebago, Ill. |
| | Alexandra Packard | | | | | Sophomore | South Haven, Minn. |
| | Paige Peterson | | | | | Freshman | Davenport, Iowa |
| | Emily-Jo Pierce | | | | | Junior | Elsenz, Germany |
| | Alivia Spencer | | | | | Freshman | Long Grove, Iowa |
| | Kayleen Thompson | | | | | Senior | Cedar Rapids, Iowa |
| | Rachel Thorne | | | | | Junior | Pekin, Ill. |
2016-17 Schedule
| | | | |
| --- | --- | --- | --- |
| Sept. 3 | vs. Bethel College | Dubuque, IA | 1:00 p.m. |
| Sept. 17 | vs. Simpson College | Dubuque, IA | 1:00 p.m. |
| Sept. 24 | at Luther College | Decorah, IA | 1:00 p.m. |
| Oct. 1 | at Central College | Pella,IA | 1:00 p.m. |
| Oct. 8 | vs. Nebraska Wesleyan Univ. | Dubuque, IA | 1:00 p.m. |
| Oct. 15 | vs. Coe College | Dubuque, IA | 1:00 p.m. |
| Oct. 22 | at Buena Vista Univ. | Storm Lake, IA | 1:00 p.m. |
| Oct. 29 | vs. Wartburg College | Dubuque, IA | 1:00 p.m. |
| Nov. 5 | at Loras College | Dubuque, IA | 1:00 p.m. |
| Nov. 19 | at NCAA Division III Playoffs | TBA | TBA |
| Feb. 4 | at Competition 2-3-17 to 2-5-17 | Minneapolis, MN | TBA |
| Feb. 17 | at Competition 17-19 | Wisconsin Dells, WI | TBA |
| Feb. 25 | at Competition | Madison, WI | TBA |
| Apr. 4 | at Competition 4-9 | Daytona Beach, Fl | TBA |
| | | | |