Women's Tennis
Recently the University of Dubuque women's tennis squad has won more dual meets than previous years combined. It's a perfect time to become part of a program establishing a competitive and fun atmosphere for players of all levels. The team members must have a passion for tennis and want to grow and develope better skills while playing approximately 20 matches per year as they travel around the Midwest. Trips have included Florida and Washington, D.C. over spring break. If you're looking for a place to learn and grow your skills both on and off the court, then University of Dubuque is what you're looking for.
Six recently completed outdoor courts resurfaced in 2017 and 2018 and four indoor multi-purpose courts allow the Spartans to practice and compete in any weather conditions.
News
Oct 11, 2019
Due to inclement weather, low temperatures and high winds the 2019 Women's Tennis Individual Tournament will be moved to the indoor courts at Black Hawk Tennis Club in Waterloo, Iowa and Wartburg College in Waverly, Iowa.
Oct 8, 2019
The Spartans lost their last conference match of the year to the Loras College Duhawks 0-9 on Tuesday, Oct. 8. UD battled in #1 doubles where the duo of Hailey Wang/ Ashley Palacios in a hard fought match 6-8. Next up will be the 2019 American Rivers Conference Individual Tournament which will be held on Oct. 11-12.
View All Women's Tennis News
Become a Spartan!
If you're interested in playing women's tennis at the University of Dubuque, complete the prospect form, and a coach will be in touch.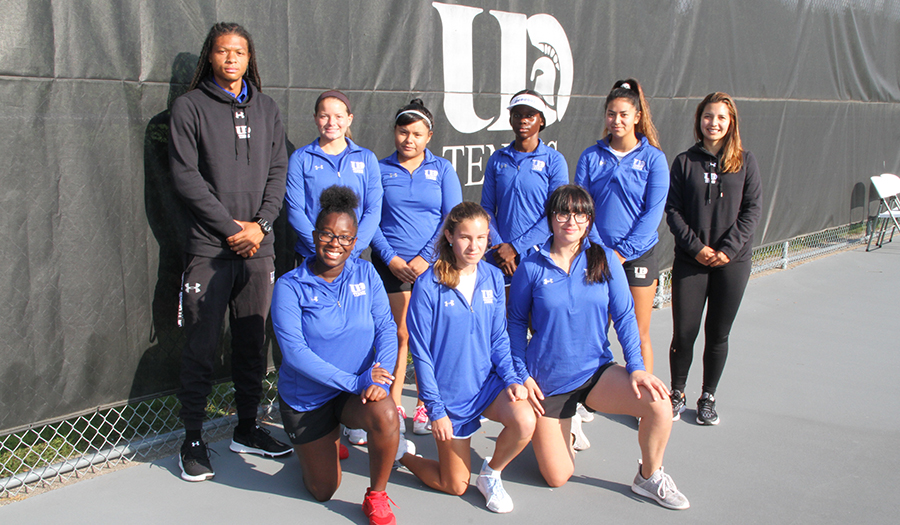 2019 Fall Schedule
Aug. 31

Millikin Tourney
vs. Greenville
vs. Cornell

Decatur, Ill.

Sept. 7

vs. Central College

Dubuque, Iowa

Sept. 7

vs. Simpson College

Dubuque, Iowa

Sept. 10

at Luther College

Decorah, Iowa

Sept. 14

vs. Nebr. Wesleyan Univ.

Dubuque, Iowa

Sept. 14

vs. Buena Vista Univ.

Dubuque, Iowa

Sept. 17

vs. Upper Iowa Univ.

Dubuque, Iowa

Sept. 25

at St. Ambrose Univ.

Davenport, Iowa

Sept. 28

at Coe College

Cedar Rapids, Iowa

Oct. 2

at Wartburg College

Waverly, Iowa

Oct. 8

at Loras College

Dubuque, Iowa

3:30 p.m.

Oct. 11

at A-R-C Individual Tourney

Byrnes Park

Waterloo, Iowa

All Day
‌‌

Dishon Deering

Head Men's and Women's Tennis Coach
Adjunct Professor of Communication
MAC, University of Dubuque
BA, University of Dubuque

Phone: 563.589.3706
E-mail: DDeering@dbq.edu
Office: 220 Mercer-Birmingham
Fax: 563.589.3425

Dishon Deering was named the Men's and Women's Tennis coach in the Fall 2018. He previously filled in for former Head Coach Claudio Giraldi (military obligations) in the fall of 2015 while assisting as a graduate assistant.

Deering was a four-year letterwinner for the Spartans. He was Academic All-Iowa Conference for three years and graduated cum laude in criminal justice in 2014 with a cumulative grade point average of 3.5. He is a member of the Omega Psi Phi fraternity and was active in community service while at UD. He was a member of the NCAA Student Athlete Advisory Committee (SAAC) at UD and was selected to be part of a regional SAAC Leadership Workshop.

He is a native of Winter Springs, Fla. where he was a three-year letterwinner at Winter Springs High School.

---

Rosalinda Calderon

Graduate Assistant - Men's and Women's Tennis


Phone: 563.589.3240
E-mail: RCalderon@dbq.edu
Office: 220 Mercer-Birmingham
Fax: 563.589.3425

---
Past Seasons
Select a season for historical information and statistics