Women's Tennis
Recently the University of Dubuque women's tennis squad has won more dual meets than previous years combined. It's a perfect time to become part of a program establishing a competitive and fun atmosphere for players of all levels. The team members must have a passion for tennis and want to grow and develope better skills while playing approximately 20 matches per year as they travel around the Midwest. Trips have included Florida and Washington, D.C. over spring break. If you're looking for a place to learn and grow your skills both on and off the court, then University of Dubuque is what you're looking for.
Six recently completed outdoor courts resurfaced in 2017 and 2018 and four indoor multi-purpose courts allow the Spartans to practice and compete in any weather conditions.
News
Apr 12, 2019
Due to the weather, the University of Dubuque women's tennis team had their three matches for the weekend of April 13th-14th. The Spartans were scheduled to face off against Western Illinois on April 13th and Augustana and Grinnell on April 14th.
Oct 31, 2018
The American Rivers Conference announced the all-conference teams for the 2018 women's tennis season on Wednesday with Ashley Palacios-Quinonez being selected as honorable mention.
View All Women's Tennis News
Upcoming Events
Aug 31, 2019 | 9:00 AM — 5:00 PM | Decatur, Ill.
at Millikin Tournament
Sep 7, 2019 | 9:00 AM — 3:00 PM | Dubuque, Iowa
vs Central (9 a.m.) and Simpson (12 p.m.)
View All Women's Tennis Events
Become a Spartan!
If you're interested in playing women's tennis at the University of Dubuque, complete the prospect form, and a coach will be in touch.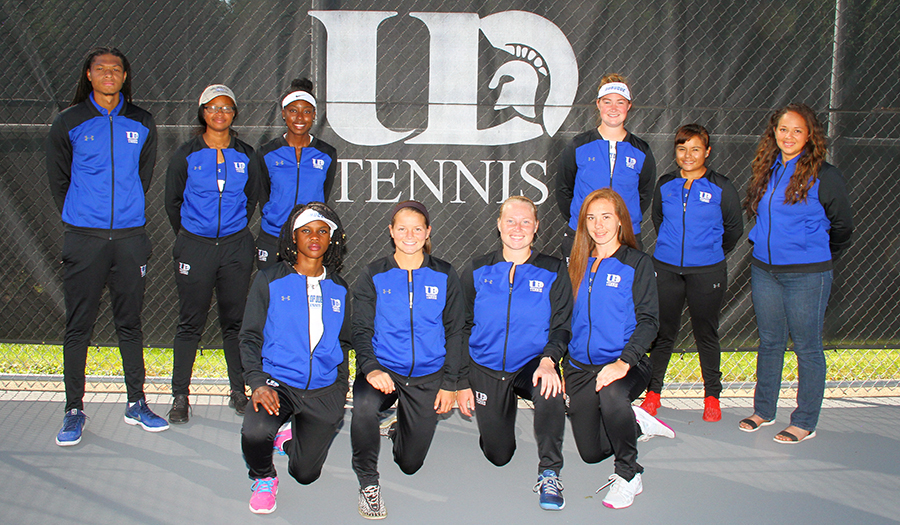 2019 Fall Schedule
| | | | |
| --- | --- | --- | --- |
| Aug. 31 | at Millikin Tourney | Decatur, Ill. | All Day |
| Sept. 7 | vs. Central College | Dubuque, Iowa | 9:00 a.m. |
| Sept. 7 | vs. Simpson College | Dubuque, Iowa | 12:00 p.m. |
| Sept. 14 | vs. Nebr. Wesleyan Univ. | Dubuque, Iowa | 9:00 a.m. |
| Sept. 14 | vs. Buena Vista Univ. | Dubuque, Iowa | 12:00 p.m. |
| Sept. 17 | vs. Upper Iowa Univ. | Dubuque, Iowa | 3:30 p.m. |
| Sept. 20 | at ITA Midwest Regional | St. Peter, Minn. | All Day |
| Sept. 21 | at ITA Midwest Regional | St. Peter, Minn. | All Day |
| Sept. 25 | at St. Ambrose Univ. | Davenport, Iowa | 3:30 p.m. |
| Sept. 28 | at Coe College | Cedar Rapids, Iowa 9:00 a.m. | |
| Oct. 2 | at Wartburg College | Waverly, Iowa | 3:30 p.m. |
| Oct. 5 | vs. Roosevelt University | Dubuque, Iowa | 10:00 a.m. |
| Oct. 8 | at Loras College | Dubuque, Iowa | 3:30 p.m. |
| Oct. 11 | at A-R-C Individual Tourney | | |
| | Byrnes Park | Waterloo, Iowa | All Day |
‌‌

Dishon Deering

Head Men's and Women's Tennis Coach
Adjunct Professor of Communication
MAC, University of Dubuque
BA, University of Dubuque

Phone: 563.589.3706
E-mail: DDeering@dbq.edu
Office: 220 Mercer-Birmingham
Fax: 563.589.3425

---

Rosalinda Calderon

Graduate Assistant - Men's and Women's Tennis


Phone: 563.589.3240
E-mail: RCalderon@dbq.edu
Office: 220 Mercer-Birmingham
Fax: 563.589.3425

---
Past Seasons
Select a season for historical information and statistics