Cheer and Stunt
The University of Dubuque Cheer and Stunt team is at the forefront of Spartan athletics, providing the game day spirit not only at athletic events, but at events throughout the campus community. The Cheer and Stunt team is under the care of the University of Dubuque Athletics Department. The student-athletes who make up the squad attend camps in the summer, travel to post-season games as well as men's and women's basketball tournaments, and compete in national competitions.
The University of Dubuque team is comprised of a co-ed core of performers who lead the crowd at football, men's basketball, women's basketball, and other events. Members of the cheerleading squad follow the NCAA-mandated AACCA guidelines while at games, events, and practice.
The Iowa Intercollegiate Athletic Conference (IIAC) held its inaugural Competitive Cheer and Dance Invitational Sunday, February 11, 2018 at Buena Vista University. The University of Dubuque claimed the Cheer Routine-Stunt title for the Spartans. In the Cheer Routine-Stunt category, UD scored 54.83 points in winning the title, while Simpson was second with a score of 53.5.
Cheer and Stunt News
Feb 17, 2020
The University of Dubuque played host to the 2020 American Rivers Conference Cheer and Dance Invitational held in Stoltz Sports Center.
Feb 11, 2019
The Dance and Cheer teams from the American Rivers Conference endured snowy travel to arrive at the P.H. Kuyper Gymnasium for the second annual A-R-C Competitive Dance and Cheer Invitational.
View All Cheer and Stunt News
Become a Spartan!
If you're interested in cheer and stunt at the University of Dubuque, complete the prospect form, and a coach will be in touch.
Roster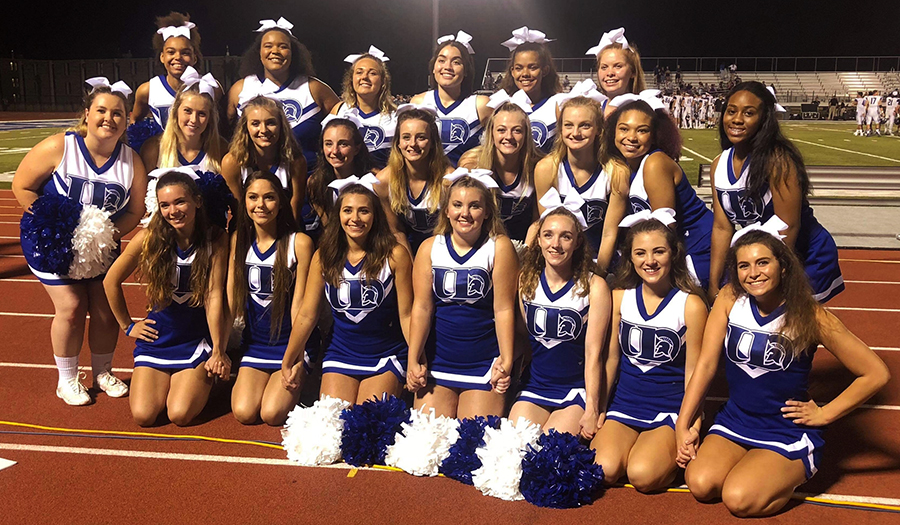 ‌

Drew Ritchie

Head Cheer and Stunt Coach



Phone: 563.589.3733
E-mail: DRitchie@dbq.edu
Office: Stoltz Sports Center
Fax: 563.589.3425

Drew Ritchie re-started the cheer and stunt program at UD in 2011. He coached at UD from 2011-2016 before taking a position with the University of South Dakota Cheerleading. Ritchie returned to UD in January of 2018. He has over 15 years of cheerleading coaching experience at the college, high school and all-star levels. He also has five years of experience working with NCA as a camp instructor and as a head instructor.

He resides in Dubuque, Iowa and holds a bachelor's degree in Criminal Justice.

---

Marissa Pronschinske

Graduate Assistant - Cheer and Stunt



Phone: 563.589.3377
E-mail: MPronschinske@dbq.edu
Office: 106 Stoltz Sports Center
Fax: 563.589.3425

---
2020-2021 UD Cheer and Stunt Virtual Tryouts:
Due to the COVID-19 pandemic, the University of Dubuque has closed its campus for the spring semester and we will not longer be able to host our live tryout. Like many other schools, we will be moving to a video format for this years tryouts. Things are going to be a bit more informal than we would like, but we are going to do the best we can to have a successful tryout that leads to an amazing season.
So, what do you need to do in order to tryout? Here are the three things you need to do to get started:
Do the online tryout application - https://www.surveymonkey.com/r/2WPS9GJ
After you fill out the tryout application, our coaches will send you an email letting you know how to proceed. Please make sure that the email address you use in the tryout application is correct and that you start checking it often. That will be how coaches will reach out to you as well as how you will get any information going forward.
Everyone that fills out the tryout application will get a response from coaches. If you do not get an email within two days of filling out your application, please email Coach Drew Ritchie at DRitchie@dbq.edu so we can figure out the problem and get you in on the virtual tryout process.
We are going to have an AMAZING 2020-2021 season. We hope that you will be part of it! Come join our cheer family!
GO SPARTANS!!
Coach Drew Ritchie
Head Cheer Coach
University of Dubuque
---
Click here to Apply for Admission and/or Request More Information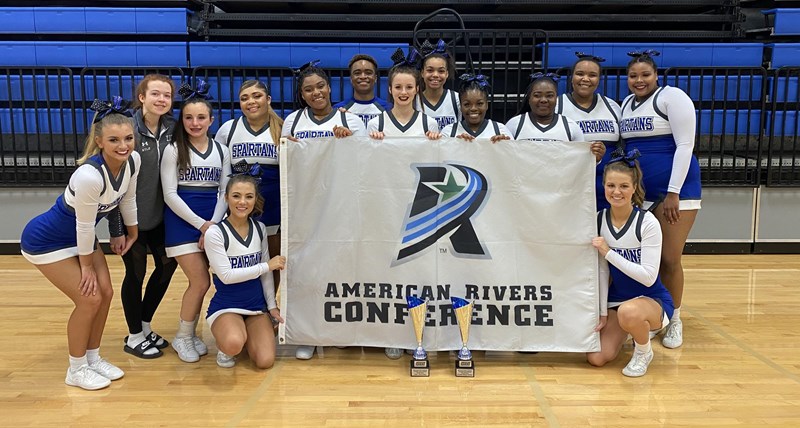 ---
Cheer HS Camp Registration 2020
---
High School Cheer Coaches,
Are you looking for a local and inexpensive summer camp for your team? Look no further than the University of Dubuque. We have had a few teams ask us about doing a camp, and now we are bringing one to you all! This is a one day camp that will have two sessions. It will be geared toward helping teams prepare for their first football games as well as to just help get ready for the upcoming cheer year! Camp will take place on Tuesday, July 28th with the first session starting at 9:00 a.m. and the second session starting at 1:00 p.m. Here are the two sessions:
Morning Session – Game Day Session:
This session will focus on game day. We will do a motion clinic, learn a cheer, learn a band chant, and give each team a short game day routine combining those two things that they can take back home and use during a timeout of their opening home football game.
Afternoon Session – Stunts and Tosses Session:
Our afternoon session will be focused on stunts. We are going to be working on partner/group stunts and basket tosses. Each team will be able to work on the skills that they need/want. We will also be covering stunting safety during this session. So whether you are new to stunting, looking to solidify your skills, or wanting to learn something new, this will be a great opportunity to for you and your team!
There will be an hour for lunch in between each sessions for those teams that are attending both session. Teams may choose to do only one session or both. Cost per session is $20 per cheerleader or $35 for both sessions. Please download the registration form attached to this webpage for details as well as to get your hands on the required waiver. All athletes and coaches must sign a waiver and each team must have at least one coach present for the entire time that their team is participating at camp.
Have a great summer coaches and we will see you at camp!
GO CHEERLEADING!
Coach Drew Ritchie
Head Cheer Coach
University of Dubuque
E-mail: DRitchie@dbq.edu
Phone: 563.589.3733