Track and Field
The University of Dubuque men's track and field athletes have a long history of success in the Iowa Conference (now American Rivers Conference) as well as on the national stage. The Spartan men's success includes nearly 500 All-Conference honors, 43 All-America honors, and 6 National Championships; Basil Steele (2003, 2004, 2005, 55m Hurdles), Phillip Jones (2011, 55m Dash), Rick Valcin (2014, Pole Vault), and Blaze Murfin (2018-Shot Put). As a team the Spartans have hoisted the IIAC Conference Championship trophy 12 times and finished runner-up another 12.
With the addition of a new coaching staff in 2011, including 2013 IIAC Coach of the Year, Chad Gunnelson, the Spartan men have re-written the record books and look to continue the momentum into the this season.
UD Hall of Famer, Solomon Butler ruled the broad jump from 1912-1923. He won both the 100-yard dash and broad jump at the Penn Relays. Entering military service as a soldier in World War I he represented the U.S. Army in the Inter-Allied Games in Paris. He was knighted by the King of Montenegro after winning gold medal at 1919 in the broad jump with a winning leap at Paris, 24-9 1/2, which was only two inches from the Olympic record at the time.
Competing in the 1920 Olympics, on his first jump in the preliminaries, he pulled a tendon and was forced to withdraw. That injury-hampered effort was a shade under 21-8 and he finished seventh. He won the National Amateur Athletic Union championship that same year by broad jumping 24-8. By the time he retired from track and field, Butler had won 186 medals, 25 championship cups, eight gold shields, and four gold watches. He won five events at the Conference of Iowa College Championships in 1918, scoring 25 team points himself.
The National Scholastic Athletics Foundation (NSAF), a non-profit organization created to support and promote high school-age track and field, announced the inaugural class of the new National High School Track and Field Hall of Fame on March 8, 2018 at the New York Athletic Club. Featuring the sport's immortal legends like Solomon Butler, Jesse Owens and Jim Ryun, to all-time greats like Steve Prefontaine and Mary Decker Slaney, to current Olympic superstar Allyson Felix -- the inaugural class will feature 30 athletes, coaches and contributors spanning 11 decades of excellence in high school track and field.
"Our goal in creating a hall of fame for high school track and field is to honor the greatest athletes, coaches, innovators and contributors in high school track and field history," said James Spier, Executive Director of the NSAF. "The inaugural class of athletes, coaches, and contributors includes icons of the sport and each of these individuals has made a lasting impact on high school track and field. Generations of athletes have been inspired by and have benefited from their historic accomplishments."
Track and Field News
Jul 22, 2019
The 2018-19 witnessed no shortage of incredible efforts during the indoor and outdoor track & field seasons. The U.S. Track & Field and Cross Country Coaches Association (USTFCCCA) is pleased to honor individuals and teams who excelled both academically and athletically.
May 25, 2019
The University of Dubuque track and field team had an impressive final day at the 2019 NCAA Division III Outdoor Track and Field Championships as they would have four different indviduals earns All-American status including Alison Beeman who achieved it in both the 100m dash and 200m dash.
View All Track and Field News
Upcoming Events
Dec 7, 2019 | 9:00 AM — 6:00 PM | Dubuque, Iowa A.Y. McDonald Indoor Track
Battle of the Bluff
Jan 18, 2020 | 10:30 AM — 6:00 PM | Dubuque, Iowa A.Y. McDonald Indoor Track
UD Sol Butler Classic
View All Track and Field Events
Become a Spartan!
If you're interested in track and field at the University of Dubuque, complete the prospect form, and a coach will be in touch.
---
---

‌

‌

‌‌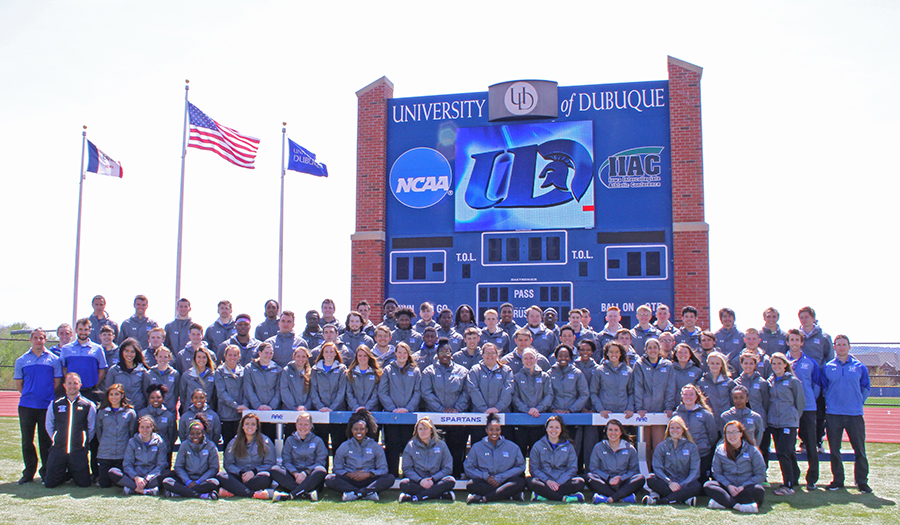 | | Name | Position | Event | Height | Weight | Year | Hometown |
| --- | --- | --- | --- | --- | --- | --- | --- |
| | Ziad Alshomrani | | Sprints | | | | |
| | Keaton Anderson | | Sprints | | | | |
| | Jaylen Bell | | Sprints | | | | |
| | Mark Biechler | | Distance | | | Freshman | Apple Valley, Minn. |
| | Jaylen Bounds | | Sprints | | | | |
| | Riley Boyce | | Distnace | | | Senior | Madison, Wis. |
| | Jacob Boyes | | Sprints | | | | |
| | Dante Burchfield | | Hurdles/Sprints/Jumps | | | Junior | Zion, Ill. |
| | Aidan Carr | | Throws | | | Sophomore | Hampton, Iowa |
| | Tyler Cernohous | | Distance | | | Freshman | River Falls, Wis. |
| | Cade Collier | Throws | | | | | |
| | Maurice Cushion-Lewis | | Jumps | | | Junior | Social Cirlce, Ga. |
| | Bryan Dozier | | Throws | | | | |
| | Austin Feyen | | Throws | | | Junior | Fond du Lac, Wis. |
| | Noah Forrey | | Distance | | | Senior | Penngrove, Calif. |
| | Tyler Fowler | | Hurdles | | | Junior | Cedar Rapids, Iowa |
| | Clayton Hahn | | Throws | | | Freshman | Clinton, Wis. |
| | Jatavion Hawkins | | Jumps | | | | |
| | Jacob Heitter | | Jumps | | | Junior | Byron, Ill. |
| | Kobe Howell | | Sprints | | | Freshman | Mission Hills, Calif. |
| | Carl Jean | | Distance | | | Senior | Charlotte, NC |
| | Alexander Maras | | Sprints | | | Sophomore | Wonder Lake, Ill. |
| | Maximus Martinez | | Sprints | | | | |
| | Kyle Mattson | | Hurdles | | | | |
| | Jordan Morrow | Distance | | | | Freshman | Arlington Heights, Ill. |
| | Zachary Naatz | | Throws | | | Sophomore | Watertown, Wis. |
| | Michael Orcutt | | Distance | | | Sophomore | Spring Green, Wis. |
| | Jayden Oshirak | | Distance | | | Freshman | Ankeny, Iowa |
| | Colfay Pointer | | Sprints | | | Junior | Rochelle, Ill. |
| | Tavian Rumple | | Distance | | | Junior | Mesa, Ariz. |
| | Clayton Spahn | | Sprints | | | | |
| | Rei'Shaun Spires | | Jumps | | | | |
| | Jeremiah Steed | | Sprints | | | Sophomore | Las Vegas, Nev. |
| | Damon Street | | Jumps | | | | |
| | Joseph Tobin | | Distance | | | Junior | Durant, Iowa |
| | Sean Wahlin | | Sprints | | | | |
| | Kodie Willis | | Throws | | | | |
| | Colton Youngren | | Throws | | | Sophomore | Princeton, Ill. |
For complete men's collegiate University of Dubuque meet results click here for Track & Field Results Reporting System
For complete women's collegiate University of Dubuque meet results click here for Track & Field Results Reporting System
2019-2020 Track and Field Schedules
Indoor

Dec. 6-7

University of Dubuque Battle of the Bluff

Dubuque, IA

TBA

Jan. 18

University of Dubuque Solomon W. Butler Classic

Dubuque, IA

10:30 a.m.

Jan. 24

University of Northern Iowa Jack Jennett Open

Cedar Falls, IA

TBA

Jan. 31-
Feb. 1

Wartburg College Wartburg Select

Waverly, IA

10:30 a.m.

Feb. 1

UW-Platteville Pioneer Open

Platteville, WI

11:00 a.m.

Feb. 8

Illinois Wesleyan University Keck D-III Select Invitational

Bloomington, IL

TBA

Feb. 15

UW-Platteville Invitational

Platteville, WI

11:00 a.m.

Feb. 21

University of Dubuque Spartan Invite

Dubuque, IA

3:00 p.m.

Feb. 28-29

American Rivers Conference Championships

Hosted by Luther College

Decorah, IA

10:00 a.m.

Mar. 6

UW-Platteville Final Qualifing Meet

Platteville, WI

4:00 p.m.

Mar. 7

Wartburg College NCAA Qualifier

Waverly, IA

10:30 a.m.

Mar. 13-14

2019 NCAA Division III Indoor Championships

JDL Fast Track
Hosted by Guilford College

Winston-Salem, N.C.

10:00 a.m.

Outdoor

Mar. 28

Reserved For Meet

TBA

Apr. 4

Cornell College Invitational

Mount Vernon, IA

10:00 a.m.

Apr. 9-10

UW-Platteville Invitational

Platteville, WI

TBA

Apr. 18

University of Dubuque Invite

Dubuque, IA

10:00 a.m.

Apr. 25

UW-Whitewater Drake Alternative

Whitewater, WI

TBA

Apr. 23-25

111th Annual Drake University Relays

Des Moines, IA

All Day

May 1

Loras College Dr. Tucker Open

Dubuque, IA

4:00 p.m.

May 7-9

American Rivers Conference Championships

Hosted by University of Dubuque

Dubuque, IA

11:00 a.m.

May 13-14

North Central College Gregory Invitational

Naperville, IL

May 14

UW-La Crosse Final Qualifier

La Crosse, WI

May 14

Augustana College Twilight Qualifier

Rock Island, IL

May 22-24

2020 NCAA Division III Outdoor Championships

Polisseni Track and Field Complex
Hosted by St. John Fischer

Rochester, NY
Chad Gunnelson

Director of Track and Field | Cross Country
MMSM, University of Dubuque
BS, University of Dubuque

Phone: 563.589.3860
E-mail: CGunnelson@dbq.edu
Office: 214 Mercer-Birmingham
Fax: 563.589.3425

Chad Gunnelson, now in his ninth season leading the program, is the first coach to lead the Spartans to back-to-back conference titles in over 50 years and their first-ever indoor championship. He was named Coach of the Year by the American Rivers Conference (formerly Iowa Conference) in 2014, 2017, and 2018, and Central Region Coach of the Year by the United States Track and Cross Country Coaches Association in 2017 and 2018. Throughout his first eight seasons at the helm, the Spartans have rewritten the record books, breaking 76 different school records in both track & field and cross country.

In 2019, the Spartans achieved their best collective performance on the national stage. The men's and women's program both competed for their share of top 10 team finishes at the NCAA Championships. The men's team placed 9th at the indoor championships and the women's team placed 9th at the outdoor championships. In 2018, the teams completed their best collective conference efforts as the Spartan men claimed their second straight Iowa Conference Championship indoors, a runner-up finish outdoors, the best in over 50 years, and the women set a program record for points at the outdoor championships with 150.33 points.

During Coach Gunnelson's tenure, the Spartans have had 90 NCAA qualifiers, earning 34 All-America honors and 3 National Champions (Blaze Murfin, Outdoor Shot Put, 2018; Tanasha Atwater, Outdoor Shot Put, 2017; Rick Valcin, Outdoor Pole Vault, 2014). The Spartans have crowned 113 conference champions and earned 348 all-conference honors as well during those 8 seasons.

The team has excelled off the track and course as well. The men's and women's cross country program has earned USTFCCCA All-Academic honors for the seventh and tenth consecutive years respectively. The women's track and field team has won their fifth consecutive USTFCCCA All-Academic award. Each team carries the respective GPAs as of Fall of 2019: men's cross country – 3.62, women's cross country – 3.76, men's track and field – 3.19, women's track and field – 3.49.

Prior to his arrival at UD, Gunnelson, a native of Madison, Wis., spent six years as the head boy's and girl's track & field coach at Madison East High School. At Madison East, Gunnelson coached 22 school record holders and back-to-back state champions in 2010 and 2011. In his final year with the Purgolders, the team earned a 3.24 GPA, had four sectional champions, and placed all four state qualifiers on the podium at the WIAA state meet, including a state champion in the 400 meters.

Along with coaching, Gunnelson was the owner and CEO of Athletic Republic, a sports performance training facility, from 2007 to 2011 where he built Athletic Republic into the largest training facility in the Madison area and trained youth, high school, college, and professional athletes in football, baseball, basketball, hockey as well as Olympians.

Outside of his duties at UD, Coach Gunnelson is actively involved in the sport of track & field beyond coaching. He serves on the USTFCCCA Division III track & field executive committee, the American Rivers Conference coaches' chair, he is a member of the American Rivers Conference championships sub-committee, and the college coaches' representative for the Iowa Association of Track Coaches.

Gunnelson currently holds USTFCCCA Specialist Certifications in jumps, endurance, and strength & conditioning. He holds a USATF Level 1 certification and Level 2 sprints, hurdles, relays certification as well. Along with track & field coaching, Gunnelson is a certified performance coach with USA Weightlifting, certified in the Functional Movement Screen, and is a member of the National Strength & Conditioning Association.

Coach Gunnelson loves to pay it forward to the coaching world speaking at high school clinics around the country, coaching at various camps, and presented at the USTFCCCA National Convention. He also instructs the USTFCCCA Track & Field Technical Certification course.

Coach Gunnelson resides in Dubuque, Iowa with his wife Melissa and their children, daughter Taylor, and sons Evan and Dash. They also have two dogs, Willow and Luna.

Track and Field Coaching Record at the University of Dubuque

Conf. Finishes:
Men
Women
Season
Indoor
Outdoor
Indoor
Outdoor
2012
4th
6th
7th
8th
2013
3rd
4th
6th
6th
2014
4th
4th
3rd
5th
2015
3rd
4th
3rd
5th
2016
5th
4th
4th
3rd
2017
1st
4th
4th
4th
2018
1st
2nd
4th
3rd
2019
4th
2nd
4th
4th

---

‌

Jake Malm

Assistant Track and Field Coach
Recruiting Coordinator
MAC, University of Dubuque
BS, University of Minnesota

Phone: 563.589.3714
E-mail: MMalm@dbq.edu
Office: 215 Mercer-Birmingham
Fax: 563.589.3425

Jake Malm enters his seventh year coaching the Spartan throwers, a group that has quickly become the most successful in school history.

Under Malm's leadership, the UD throws group has established a presence at the national level where they've led the country in entries to the NCAA Championships over the last three years and claimed two national champions in the shot put: Blaze Murfin outdoors in 2018, and Tanasha Atwater outdoors in 2017. It is also during this period that Malm has been named Central Region Assistant Coach of the Year four times – twice each for the indoor and outdoor seasons.

The 2019 season saw Blaze Murfin capture five more All-American honors (discus, hammer, weight, indoor/outdoor shot put) to bring his career total to 12 and graduate as one of the most decorated throwers in NCAA Division III. Murfin owns the 7th farthest weight throw and 8th farthest indoor shot put throw in NCAA Division III history. On the women's side, Rebecca Burmahl was the national runner-up in the hammer throw and Caroline Ferguson earned her first All-American award by placing 6th in the shot put at the outdoor championships.

Spartan throwers have also dominated at the conference level, where they've led the A-R-C (formerly the Iowa Conference) in scoring every year since 2016 and won ten of twelve throwing events in the 2019 Championships. Spartans own the all-time conference record in men's and women's indoor shot put, men's and women's weight throw, women's outdoor shot put, and men's and women's hammer throw.

Prior to coming to UD, Malm volunteered at Hamline University during the 2013 season while finishing his degree in Kinesiology from the University of Minnesota. While at Minnesota, Malm competed in the javelin and was a member of three Big Ten Conference championship teams. He currently holds certifications from USATF (Level 2 Throws), USTFCCCA (Throwing Events, Strength and Conditioning), and the NSCA (Certified Strength and Conditioning Specialist). In 2016, Malm was invited to participate in the USATF Emerging Elite Coaches Camp.

Malm is originally from Grand Forks, North Dakota and now resides in Dubuque, Iowa.

---

Richard Maleniak

Head Cross Country Coach
Assistant Track and Field Coach
MS, Illinois State University
BS, University of Wisconsin - Eau Claire

Phone: 563.589.3310
E-mail: RMaleniak@dbq.edu
Office: 215 Mercer-Birmingham
Fax: 563.589.3425

Rich Maleniak enters his third season with the Spartans and his second season as the head cross country coach. As the assistant track & field coach, he leads the middle distance, distance, and 400-meter runners for the program.

In Coach Maleniak's first two years, 10 school records were broken in events 400 meters and up. The Spartan men won the Iowa Conference Championship in 2018 with 18 points coming from distance runner Alec Bass who won the 3000 meters and was runner-up in the 5000 meters. He has mentored Colfay Pointer to multiple NCAA Championships appearances, including All-American honors in 2019. Another school record was set in the 4x400m, as the team knocked over four seconds off the record set in 1961, en route to placing 10th at the NCAA Championships.

Prior to UD, Maleniak, a four-time USTFCCCA Central Region Assistant Coach of the Year, lead the women's middle distance and distance runners at the University of St. Thomas (UST) for six seasons. Throughout his tenure at UST, Maleniak helped runners gain conference, regional, and national success in cross country and track and field covering events from 600 to 10,000 meters. At UST, Maleniak coached 29 individuals and relays to MIAC titles and 57 all-conference finishes. On the national level, Maleniak coached athletes to 20 NCAA All-American performances in individual or relay events including back-to-back national titles in the distance medley relay (2015 & 2016) and a national championship in the indoor mile (2016). He has coached four USTFCCCA Regional Athlete-of-the-Year award winners. Maleniak wrote the training and lead the UST women's cross country team to the NCAA Championships for three consecutive seasons (2014-2016). He also coached three individuals to All-American performances at the NCAA DIII Cross Country National Championships.

Before joining the St. Thomas staff in 2012, Maleniak spent the previous two seasons as a graduate assistant coach for the cross country and track and field teams at NCAA Division I Illinois State University (ISU). While at ISU, he was responsible for on and off campus recruiting and help implementing workouts for the distance runners.

Maleniak began his college coaching career at UW-Eau Claire as an assistant coach for the men's and women's track and field and cross country programs. Maleniak was in charge of developing workout plans for the 800-meter training group. He coached two NCAA All-Americans and his group set multiple school records. He assisted with the women's cross country team as it improved from placing 12th at the NCAA Championship meet in 2006, to 8th place in 2007, and 5th place in 2008.

Maleniak earned his bachelor's degree from UW-Eau Claire in Chemistry with an emphasis in business in 2002, and earned a master's degree in Sports Management from Illinois State University in 2011. As a competitor himself, he competed in five national championship competitions and was a 2-time NCAA Division III Track All-American. Maleniak also served as a team captain and was named MVP of the track team after his senior season, while setting the UW-Eau Claire school records in the indoor mile and outdoor 1500-meter run. He holds a U.S.A. Track and Field Level II certification in the Endurance events, and a USTFCCCA Strength and Conditioning Certification.

---

‌

Clayton Gray

Graduate Assistant - Track and Field
BS, University of Dubuque

Phone: 563.589.7450
E-mail: CGray@dbq.edu
Office: 302 Chlapaty Recreation and Wellness Center
Fax: 563.589.3425

Clayton Gray (C'18) is a University of Dubuque alum and competed as a sprinter and hurdler for the Spartans. He enters his second season leading the Spartan sprinters in 2019-2020.

As an athlete, Coach Gray was a team captain and an NCAA qualifier in the men's 4x100m relay team in 2018. He was a member of the Iowa Conference championship 4x100m relay team and a multiple-time All-IIAC performer and Drake Relays qualifier. He is ranked in the top-5 in UD history in the 55m hurdles, 60m hurdles, 110m hurdles, 4x100m relay and is a member of the school record shuttle hurdle relay team.

Gray is certified as a USTFCCCA Strength and Conditioning Coach and has a Level 2 USATF Sprints/Hurdles/Relays endorsement. He is First Aid/CPR/AED certified. Coach Gray is a native of Manchester, Iowa and currently resides in Dubuque. He is currently completing his master's degree in communication.

---

Jordan Pingel

Graduate Assistant - Track and Field | Cross Country
BA, University of Northern Iowa

Phone: 563.589.7450
E-mail: JPingel@dbq.edu
Office: 302 Chlapaty Recreation and Wellness Center
Fax: 563.589.3425

Jordan Pingel starts his second season with the University of Dubuque cross country and track and field programs in 2019-20. After a successful first year of leading the Spartan horizontal jumps, he will be transitioning to help assist with the middle distance and distance events. As the horizontal jumps coach, Pingel lead multiple athletes to indoor & outdoor conference championships as well as coached a national qualifier in the triple jump.

Prior to UD, Coach Pingel competed at the University of Northern Iowa where he was an All-MVC performer and a contributor to the Panthers MVC Championship in 2018. Pingel earned his degree in Kinesiology at UNI and was also honored as a scholar-athlete for the Panthers.

Pingel, a native of Pella, Iowa, now resides in Dubuque where he is completing his master's degree in sports management. Coach Pingel is First Aid/CPR/AED certified.

---
Past Seasons
Select a season for historical information and statistics
2018 Record Book