Men's Soccer
The University of Dubuque men's soccer team shared the Iowa Conference title in 2010 and have been a perennial favorite in league play. The Spartans have celebrated over 100 total victories and have lost only a handfull of games in the American Rivers Conference.
The Spartans will push the ball up the field, attack quickly, and be the aggressor when they compete. Expect the Spartans to battle every time for the 50-50 balls while keeping the ball on their opponents half throughout the matches. The play offers many chances to compete, UD players have been named All-Iowa Conference over 30 times, NSCAA All-North Region six times, All-American twice, Academic All-Iowa Conference nearly 30 times, and Academic All-Region five times.
Men's Soccer News
Nov 6, 2019
Four University of Dubuque men's soccer student-athletes picked up 2019 All-American Rivers Conference on Wednesday with Brandon White and Gloire Luwara getting all-conference honors and Josh Merkel and Lucas Von Braun earning honorable mention.
Nov 2, 2019
The University of Dubuque men's soccer team gave the 9th ranked Luther College Norse all they could handle in the first round of the American Rivers Conference Tournament on Saturday afternoon, where they fell with 15 seconds left in double overtime, 3-2.
View All Men's Soccer News
Become a Spartan!
If you're interested in playing men's soccer at the University of Dubuque, complete the prospect form, and a coach will be in touch.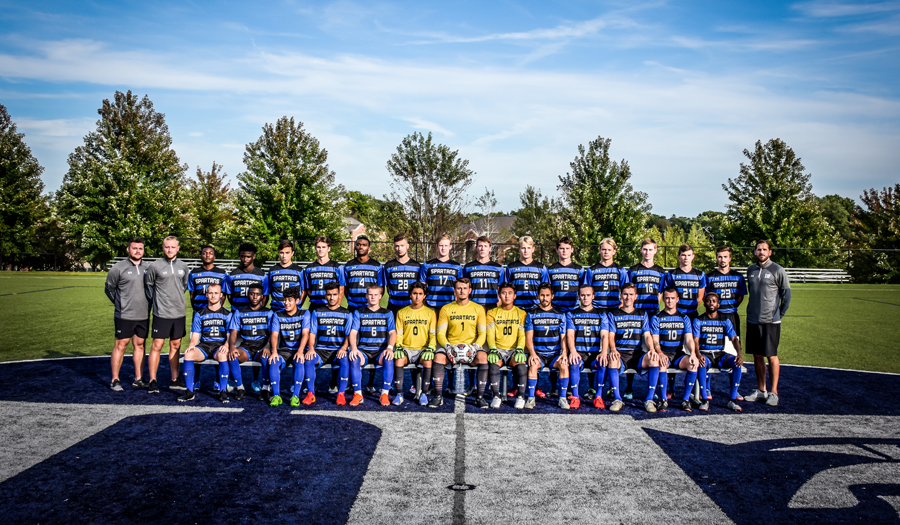 | | Name | Position | Event | Height | Weight | Year | Hometown |
| --- | --- | --- | --- | --- | --- | --- | --- |
| 0 | Cristo Morales | Goalie | | 5-9 | 145 | Freshman | Hoffman Estates, Ill. |
| 1 | Brandon White | Goalkeeper | | 6-0 | 216 | Junior | Minooka, Ill. |
| 2 | Sumani Husseini | Defender | | 5-6 | 165 | Freshman | Wheaton, Ill. |
| 4 | James Flowers | Defender | | 6-2 | 173 | Sophomore | Chicago, Ill. |
| 5 | Lucas Von Braun | Defender | | 6-2 | 163 | Freshman | Stockholm, Sweden |
| 6 | Jonny Mueller | Forward | | 5-9 | 165 | Freshman | Schaumburg, Ill. |
| 7 | Joshua Merkel | Defender | | 5-8 | 150 | Junior | Streamwood, Ill. |
| 8 | Axel Aaman | Midfield | | 6-1 | 170 | Sophomore | Taeby, Sweeden |
| 9 | Alessandro Corazzina | Midfield | | 6-1 | 165 | Sophomore | Park Ridge, Ill. |
| 14 | Unla Husseini | Midfield | | 5-8 | | Sophomore | Wheaton, Ill. |
| 16 | Mathias Ericsson | FW | | 6-1 | 165 | Freshman | Stockholm, Sweden |
| 17 | Joel Johansson | Midfield | | 6-2 | 183 | Freshman | Malmoe, Sweeden |
| 18 | Zach Elias | Midfield | | 5-11 | 165 | Sophomore | Bettendorf, Iowa |
| 20 | Gloire Luwara | Forward | | 5-9 | 172 | Sophomore | Rock Island, Ill. |
| 21 | Jacob Kryscio | Defender | | 6-0 | 160 | Sophomore | Delafield, Wis. |
| 22 | Roody Joinvil | Midfield | | 5-6 | 134 | Sophomore | Edina, Minn. |
| 24 | Ahmed Alruwaili | Midfield | | 5-9 | 170 | Junior | Dubuque, Iowa |
| 25 | Kevin Noonan | Defender | | 5-8 | 151 | Junior | Wheaton, Ill. |
| 27 | Daniel Bacskai | Midfield | | 6-3 | 180 | Junior | Herrenberg, Germany |
| 28 | Victor Bremstedt | Defender | | 6-2 | 165 | Freshman | Norrtälje, Sweden |
2020 Schedule
| | | | |
| --- | --- | --- | --- |
| Sept. 1 | vs. Monmouth | Dubuque, IA | 7 p.m. |
| Sept. 4 | vs. Concordia Wisconsin | Dubuque, IA | 7:30 p.m. |
| Sept. 6 | at Elmhurst | Elmhurst, Ill. | TBA |
| Sept. 8 | at Grinnell | Grinnell, IA | 5 p.m. |
| Sept. 12 | vs. Hamline | Dubuque, IA | 3 p.m. |
| Sept. 15 | at St. Mary's | Winona, MN | 7 p.m. |
| Sept. 19 | at UW-Superior | Superior, WI | 1:30 p.m. |
| Sept. 20 | at St. Scholastica | Duluth, MN | 2:30 p.m. |
| Sept. 26 | at Simpson | Indianola, IA | 3:30 p.m. |
| Sept. 30 | vs. UW-Platteville | Dubuque, IA | 7 p.m. |
| Oct. 4 | vs. St. Thomas | Dubuque, IA | TBA |
| Oct. 7 | vs. Loras | Dubuque, IA | 7:30 p.m. |
| Oct. 10 | at Neb. Wesleyan | Lincoln, Neb. | 3:30 p.m. |
| Oct. 13 | vs. Wartburg | Dubuque, IA | 7:30 p.m. |
| Oct. 17 | vs. Central | Dubuque, IA | 1 p.m. |
| Oct. 21 | at Luther | Decorah, IA | 7:30 p.m. |
| Oct. 24 | vs. Buena Vista* | Dubuque, IA | 3:30 p.m. |
| Oct. 27 | at Coe* | Cedar Rapids, IA | 7:30 p.m. |
‌

Brad Johnson

Head Men's Soccer Coach
MBA, University of Dubuque
BS, Loras College

Phone: 563.589.3692
E-mail: BJohnson@dbq.edu
Office: 218 Mercer-Birmingham
Fax: 563.589.3425

Brad Johnson joined the University of Dubuque Spartans in 2004 as the Men's and Women's Assistant Soccer Coach. After helping guide both programs to new heights, he was named the Associate Head Men's Soccer Coach in 2008. Following a successful 2008 season, Johnson was promoted to the position of Head Men's Soccer Coach.


Coach Johnson led the Spartans to an Iowa Conference title in 2010 and runner-up IIAC finishes in 2009, 2012, 2015, and 2016. He also coached UD to it's first-ever appearance in the IIAC Tournament title game in 2015. Johnson coached Gonzalo Hernandez-Cascante, who earned the Spartans only offensive MVP in school history, after leading the league in goals, assists, points, and game-winners.

Since taking over the head coaching position, Johnson has coached one IIAC offensive MVP, 50 All-Conference athletes (21-First Team/29-Second Team), 12 All-Region performers, and 63 Academic All-Conference student-athletes. The 2010 team went 7-1 in Iowa Conference play to claim a share of the regular season title. The Spartans have qualified for the Conf Tournament nine of ten seasons under Johnson. The Spartans have finished in the Top-3 in the Iowa Conference in six of Johnson's nine seasons at the helm.

Johnson currently holds a United States Soccer Federation (USSF) -B- License, NSCAA Goalkeeping License, and NSCAA Special Topic License. He is actively involved in the Dubuque Soccer Club and is currently the U-13 to U-18 Director of Coaching. As well, Johnson was previously the Head Boy's Soccer Coach at Hempstead High School in Dubuque.

He attended Loras College for four years, where he was a three-time captain, four-year All-Iowa Conference honoree, an All-Region selection, and garnered Iowa Conference MVP honors. He holds the records at Loras College for most points and goals scored in a career.

Johnson received a master's degree in Business Administration from the University of Dubuque and his Bachelor Degree in Finance from Loras College. He and his wife Jenny reside in Dubuque.

Coaching Record at the University of Dubuque

Year

Overall

Conf.

2009
14-4-2
7-1-0
2nd Place
*IIAC Tournament Qualifier
2010
15-5-0
7-1-0
1st Place
*IIAC Tournament Qualifier
2011
12-5-2
5-3-0
3rd Place
*IIAC Tournament Qualifier
2012
11-6-1
5-2
2nd Place
*IIAC Tournament Qualifier
2013
6-11-1
3-4
5th Place
*IIAC Tournament Qualifier
2014
7-9-3
4-2-1
4th Place
*IIAC Tournament Qualifier
2015
12-6-1
5-2
2nd Place
*IIAC Tournament Qualifier
2016
13-6-0
6-2
2nd Place
*IIAC Tournament Qualifier; NCAA Tournament Qualifier
2017
8-6-3
4-2-2
5th Place
*IIAC Tournament Qualifier
2018
4-12-0
2-6-0
7th Place
Total
102-70-13
48-25-3
Spartan Men's Soccer All-Time Wins Leader




---

‌

Tom Corcoran

Assistant Men's Soccer Coach
MOL, Clarke University
BA, The College of St. Scholastica


Phone: 563.589.3254
E-mail: TCorcoran@dbq.edu
Office: 219 Mercer-Birmingham
Fax: 563.589.3425

Tom Corcoran joined the University of Dubuque men's soccer program in July 2019. A Warrington, England native, Corcoran spent the previous two years at Clarke University (NAIA), where he served as the Men's Assistant Coach. While serving as their assistant coach, Tom earned his Masters of Organizational Leadership from Clarke University in May 2019.

Prior to Clarke, he spent the 2016-17 season as the Men's and Women's Soccer assistant at the UW-Superior. While there, he helped guide the UW-Superior men's team to a Upper Midwest Athletic Conference (UMAC) Tournament finals appearance.

Corcoran was a four-year starter at The College of St Scholastica. Earning All-Conference and All-Region honors three out of his four years, helping the team to four conference titles and four NCAA Tournament appearances. Tom received his bachelor's degree in Management and Marketing from The College of St Scholastica. Corcoran also spent those years coaching at Gitchi Gummi Soccer Club in Duluth, Minnesota as head coach for both boys and girls teams.

Tom was also a regular starter for Duluth FC in the NPSL North Conference, claiming a North Conference Championship in 2017, Midwest Championship in 2018, along with a National Semifinal appearance in the same season.

Corcoran is also the head girls coach at Dubuque Senior High School, winning MVC Coach of the year during the 2017-18 school year. Tom holds his USSF 'D' License and will soon work towards his 'C' License.

---

‌

Mackenzie Northern

Graduate Assistant - Men's Soccer
BA, Culver-Stockton College


Phone: 563.589.3254
E-mail: MNorthern@dbq.edu
Office: 219 Mercer-Birmingham
Fax: 563.589.3425

Mack Northern joined the University of Dubuque in 2019 as a graduate assistant for the Men's Soccer team. Northern played his collegiate soccer career at Culver-Stockton College as a forward from 2014-2018. He holds the program record for career goals and career points. Northern also earned all-conference honors multiple times during his time at CSC.

Prior to joining UD, Northern coached at Hawkeye Community College in Waterloo, Iowa as the assistant coach of both the men's and women's programs.

Northern graduated from Culver-Stockton with a bachelor's degree in Sport Management.

Northern, a native of Wakefield, England spent the first 18 years of his life in England before moving to the U.S in 2014 to start his collegiate career as a student-athlete.

While at UD, Northern is pursuing a master's degree in Communication.

---
Past Seasons
Select a season for historical information and statistics