Men's Lacrosse
The University of Dubuque men's lacrosse team is a new program recently launched as a varsity sport, and began intercollegiate competition in the spring of 2014. Lacrosse is a relatively new sport in the Midwest, we encourage you to join and help establish the Spartans as a winning lacrosse team. Expand your experiences and come see lacrosse, which combines the discipline of many sports into this rigorous, challenging sport of Native American origin.
The Spartans joined the CCIW for men's lacrosse in 2015.
Rain or shine, take advantage of the state-of-the-art, indoor Veterans Memorial Training Center, all year-round in a multi-purpose facility that features nearly 40,000 square feet of Mondo synthetic turf that simulates the feel and play of real grass. Veterans Memorial is located right next to Oyen Lacrosse/Soccer Field and hosts in-season and off-season workouts. Both facilities are apart of the Chlapaty Sports Complex.
Take a tour of the University of Dubuque Athletic facilities with graduate Tyson Svoboda.
Men's Lacrosse News
Apr 27, 2019
The University of Dubuque men's lacrosse team captured the victory on Saturday over the Northland College Lumberjacks 14-10.
Apr 24, 2019
The University of Dubuque men's lacrosse team rallied late to force overtime but North Central got the golden goal to upend the Spartans in the home finale, 6-5.
View All Men's Lacrosse News
Become a Spartan!
If you're interested in playing men's lacrosse at the University of Dubuque, complete the prospect form, and a coach will be in touch.
---
---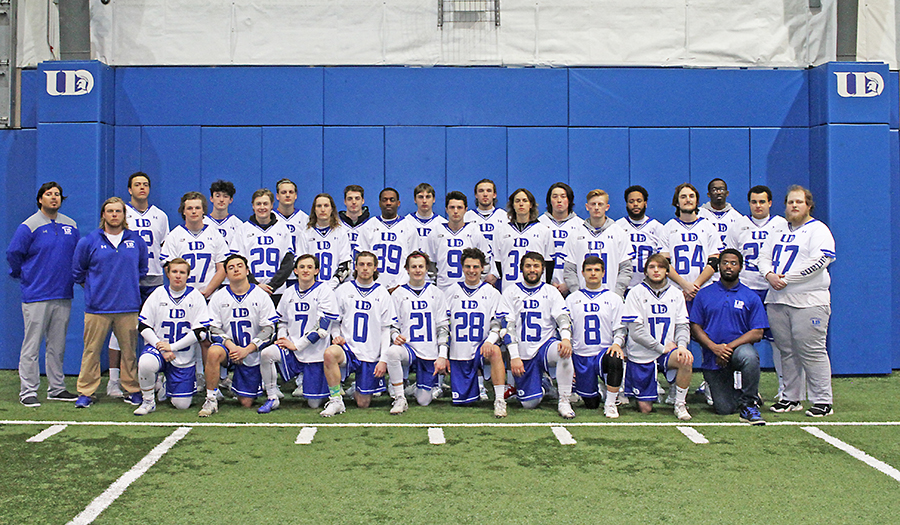 | | Name | Position | Event | Height | Weight | Year | Hometown |
| --- | --- | --- | --- | --- | --- | --- | --- |
| 0 | Ethan Brooks | Midfield | | 5-5 | 145 | Freshman | Spokane Valley, Wash. |
| 2 | Justin Daly | Defense | | 6-3 | 185 | Freshman | Apple Valley, Minn. |
| 3 | Miles Little | Midfield | | 5-7 | 135 | Freshman | Westchester, Ill. |
| 4 | Davis Behrns | Attack | | 6-1 | 180 | Junior | Whitefish Bay, Wis. |
| 5 | Garrett Smith | Defense | | 6-3 | 190 | Junior | Algonquin, Ill. |
| 7 | Tanner Weis | Attack | | 5-7 | 140 | Junior | Windsor, Colo. |
| 8 | Noah Hughes-Reilly | Attack | | 5-7 | 155 | Junior | Des Moines, Iowa |
| 9 | Zach Schmitt | Midfield | | 5-9 | 155 | Sophomore | New Albany, Ohio |
| 10 | Greyson Hanke | Defense | | 6-3 | 185 | Freshman | Omaha, Neb. |
| 11 | Nikolas Wortman | Midfield | | 5-11 | 151 | Freshman | Woodbury, Minn. |
| 12 | Noah Perry | Attack | | 6-5 | 230 | Sophomore | Tinley Park, Ill. |
| 13 | Joseph Incardella | Midfield | | 5-11 | 190 | Freshman | Chicago Heights, Ill. |
| 14 | Zach Krukovsky | Defense | | 6-3 | 225 | Sophomore | Phoenix, Ariz. |
| 15 | Ethan Senesac | Attack | | 5-8 | 180 | Senior | Homewood, Ill. |
| 16 | Lukas Wilson | Defense | | 5-5 | 215 | Freshman | Roseville, Minn. |
| 17 | Gavin Hughes | Attack | | 5-10 | 145 | Sophomore | Cary, Ill. |
| 21 | Joey Maniaci | Attack | | 5-7 | 150 | Sophomore | Pewaukee, Wis. |
| 22 | Ben Farraday | Attack | | 5-11 | 148 | Freshman | Wheaton, Ill. |
| 23 | William Kowalewski | Defense | | 5-8 | 145 | Freshman | North Ogden, Utah |
| 24 | Nathan Mueller | Defense | | 5-8 | 167 | Freshman | Littleton, Colo. |
| 25 | Nick Wallace | Defense | | 6-0 | 210 | Junior | Bloomington, Minn. |
| 26 | Austin Penrod | Goalie | | 6-0 | 270 | Freshman | Gilberts, Ill. |
| 27 | Andrew Wagner | Defense | | 5-11 | 205 | Junior | Delaware, Ohio |
| 28 | Dominic Mulcahy | Midfield | | 5-8 | 160 | Sophomore | Shakopee, Minn. |
| 29 | Ryan Nemeth | Goalie | | 5-10 | 150 | Sophomore | Waukesha, Wis. |
| 30 | Adam Klinkner | Defense | | 6-1 | 240 | Freshman | Panora, Iowa |
| 31 | Ethan Maurisak | Goalie | | 6-0 | 170 | Sophomore | Verona, Wis. |
| 32 | Dante Robinson | Defense | | 6-4 | 175 | Sophomore | Glenwood, Ill. |
| 33 | Marcel Emond | Attack | | 6-0 | 220 | Sophomore | Waunakee, Wis. |
| 34 | Mark Heitkotter | Midfield | | 5-11 | 160 | Sophomore | Hanover Park, Ill. |
| 36 | Thomas Martin | Defense | | 5-4 | 185 | Sophomore | Sault Ste Marie, Mich. |
| 39 | Jacob Cobb | Defense | | 6-0 | 185 | Sophomore | Homewood, Ill. |
| 44 | Ryan Gartner | Goalie | | 6-2 | 190 | Sophomore | Elgin, Ill. |
| 64 | Logan Farley | Defense | | 6-2 | 175 | Sophomore | Westminster, Colo. |
| 99 | Will Robinson | Attack | | 5-9 | 205 | Freshman | Long Lake, Minn. |
University of Dubuque Spartans 2020 Men's Lacrosse Schedule
| | | | |
| --- | --- | --- | --- |
| Feb. 19 | vs Cornell College | Dubuque, Iowa | 6 p.m. |
| Feb. 26 | vs. Beloit College | Dubuque, Iowa | 5 p.m. |
| Feb. 29 | vs. Concordia Wisconsin | Dubuque, Iowa | 1 p.m. |
| Mar. 3 | vs. Monmouth College | Dubuque, Iowa | 7 p.m. |
| Mar. 5 | vs. Univ. of Northwestern | Dubuque, Iowa | 7 p.m. |
| Mar. 9 | at Whittier College | Whittier, Calif. | 9 p.m. |
| Mar. 12 | at Kean University | Whittier, Calif. | 2 p.m |
| Mar. 14 | at Johnson and Wales | Denver, Colo. | 4:30 p.m. |
| Mar. 21 | vs. Illinois Tech | Dubuque, Iowa | 1 p.m. |
| Mar. 25 | at Quincy University | Quincy, Ill. | 7 p.m. |
| Apr. 3 | vs. Northland College | Dubuque, Iowa | 4 p.m. |
| Apr. 8 | vs. Augustana College* | Dubuque, Iowa | 7 p.m. |
| Apr. 11 | at Carthage College | Kenosha, Wis. | 2 p.m. |
| Apr. 15 | vs. Illinois Wesleyan | Dubuque, Iowa | 7:30 p.m. |
| Apr. 18 | vs. Carroll College | Dubuque, Iowa | 1 p.m. |
| Apr. 22 | at North Central | Naperville, Ill. | 7 p.m. |
| Apr. 25 | at Elmhurst College | Elmhurst, Ill. | 1 p.m. |
‌

Kasey Burst

Head Men's Lacrosse Coach
MBA, Mount Saint Mary's University
BA, Mount Saint Mary's University

Phone: 563.589.3428
E-mail: KBurst@dbq.edu
Office: 230 Mercer-Birmingham
Fax: 563.589.3425

Kasey Burst enters his fifth year as the Spartans Head Men's Lacrosse Coach. A native of Syracuse, N.Y., Burst joined the Spartans in 2016. He is the third coach in program history. In his second season, Burst led the Spartans to a 10-7 overall record in 2017, to complete the first winning season in program history.

Burst came to UD from Clarke University. He spent the 2014/2015 academic year building Clarke's men's and women's inaugural lacrosse programs.

Prior to Clarke, Burst spent three years as first assistant coach for Division III Clarkson University in Potsdam, N.Y., where the Golden Knights' compiled a 26-19 overall record from 2012-2014. He helped lead Clarkson to back to back Liberty League Tournament appearances in 2012 and 2013. In 2013, Clarkson advanced to the Liberty League championship game before falling to eventual national runner-up, Rochester Institute of Technology.

Burst is a 2010 graduate of NCAA Division I Mount St. Mary's University (MD), where he earned two Bachelor of Arts Degrees in International Studies and Spanish, as well as a Masters Degree in Business Administration. During his time as a defenseman at the Mount, he appeared in 37 career games, and was named to the conference's All-Academic team three times. Burst is a member of two conference championship teams in 2010 (Metro Atlantic Athletic Conference) and 2011 (Northeast Conference). He competed in the 2010 NCAA National Tournament, in a first round game vs. Virginia.

Coaching Record at the University of Dubuque

Year

Overall

Conf.

Place

2016
2-11
1-4
5th place
2017
10-7
1-5
6th place
2018
8-9
1-5
6th place
2019
6-11
1-5
6th place
TOTAL:
26-38
4-19

---

‌

Josh Berey-Wingate

Graduate Assistant - Men's Lacrosse



Phone: 563.589.3240
E-mail: JBerey@dbq.edu
Office: 224 Mercer-Birmingham
Fax: 563.589.3425

---

Abigail McClure

Graduate Assistant - Men's Lacrosse



Phone: 563.589.3240
E-mail: AMcClure@dbq.edu
Office: 224 Mercer-Birmingham
Fax: 563.589.3425

---
Past Seasons
Select a season for historical information and statistics