Women's Lacrosse
The University of Dubuque Women's Lacrosse team, recently added as a varsity sport, began intercollegiate competition in the spring of 2013. Lacrosse is a relatively new sport in the Midwest, we encourage you to join and help establish the Spartans as a winning lacrosse team.
We welcome those who are new to the sport to step out and see what this high-paced game is all about. Expand your experiences and come see lacrosse which combines the discipline of many sports.
The Spartans competed in the Midwest Women's Lacrosse Conference (MWLC) in the Spring of 2014 before joining the Conference Colleges of Illinois and Wisconsin (CCIW) in 2015. Current CCIW teams include Augustana College, Carthage College, North Central College, Elmhurst College, Illinois Wesleyan University, Carroll University, and in 2018 the University of Chicago will join.
News
Apr 27, 2019
The University of Dubuque women's lacrosse team 2019 came to an end on Saturday after falling to Illinois Wesleyan, 19-0.
Apr 23, 2019
The University of Dubuque women's lacrosse team travelled north on Tuesday and lost to UW-River Falls by a 1-18 score. UD's Kori King scored the lone goal at the 18 minute mark to cut the lead to 5-1.
View All Women's Lacrosse News
Upcoming Events
Feb 26, 2020 | 5:00 PM — 7:00 PM | Monmouth, Ill.
at Monmouth
Feb 28, 2020 | 3:00 PM — 6:00 PM | Dubuque, Iowa
vs. Anderson
View All Women's Lacrosse Events
Become a Spartan!
If you're interested in playing women's lacrosse at the University of Dubuque, complete the prospect form, and a coach will be in touch.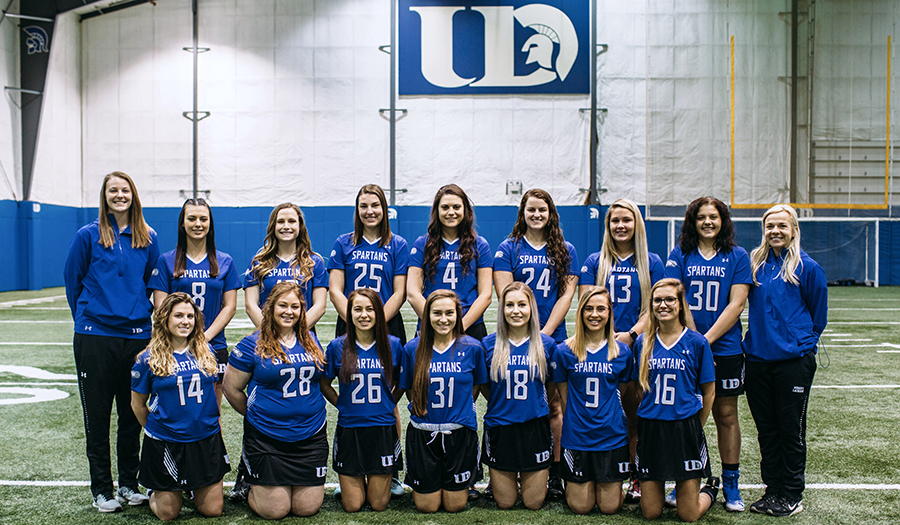 | | Name | Position | Event | Height | Weight | Year | Hometown |
| --- | --- | --- | --- | --- | --- | --- | --- |
| 8 | Carolyn Clemens | Midfield | | | | Junior | Lindenhurst, N.Y. |
| 9 | Lindsey Fernandez | Defense | | 5-5 | | Junior | Berwyn, Ill. |
| 10 | Kori King | Midfield | | 5-7 | | Sophomore | Winfield, Ill. |
| 13 | Lyndy Holdt | Defense/Attack | | | | Sophomore | Davenport, Iowa |
| 14 | Brooke Jones | Midfield | | | | Senior | Sun Prairie, Wis. |
| 18 | Julianne Galante | Attack | | 5-4 | | Junior | Tinley Park, Ill. |
| 21 | Vanessa Fortney | Defense/Attack | | | | Jr. | Janesville, Wis. |
| 25 | Lydia Kleckner | Defense | | 5-11 | | Sophomore | Decorah, Iowa |
| 28 | Kiera Donovan | Attack | | | | Junior | Naperville, Ill. |
| 30 | Erykah Ames | Defense | | | | Freshman | Chadwick, Ill. |
University of Dubuque Spartans 2020 Women's Lacrosse Schedule
| | | | |
| --- | --- | --- | --- |
| Feb. 26 | at Monmouth College | Monmouth, IL | 5:00 p.m. |
| Feb. 28 | vs. Anderson College | Dubuque, IA | TBA |
| Mar. 9 | at Johnson & Whales Univ. | Denver, CO | 5:00 p.m. |
| Feb. 10 | vs. Cornell College | Denver, CO | 12:00 p.m. |
| Mar. 18 | at Marion University | Fond Du Lac, WI | 2:00 p.m. |
| Mar. 21 | vs. Missouri Baptist | Dubuque, IA | 1:00 p.m. |
| Mar. 25 | vs. UW-La Crosse | Dubuque, IA | 3:00 p.m. |
| Mar. 28 | at North Central College | Naperville, IL | TBA |
| Apr. 1 | at Loras College | Dubuque, IA | 6:00 p.m. |
| Apr. 4 | at Carthage College | Kenosha, WI | 1:00 p.m. |
| Apr. 8 | vs. Carroll University | Dubuque, IA | 7:00 p.m. |
| Apr. 11 | vs. Elmhurst College | Dubuque, IA | 3:00 p.m. |
| Apr. 15 | at Augustana College | Rock Island, IL | 7:00 p.m. |
| Apr. 18 | vs. Univ. of Chicago | Dubuque, IA | 4:00 p.m. |
| Apr. 21 | vs. UW-River Falls | Dubuque, IA | 4:00 p.m. |
| Apr. 25 | vs. Illinois Wesleyan Univ. | Dubuque, IA | 1:00 p.m. |
| Apr. 29 | CCIW TOURNAMENT | TBA | |
| May 2 | CCIW TOURNAMENT | TBA | |
Bridget Schirmers

Head Women's Lacrosse Coach
BS, University of Dubuque

Phone: 563.589.3566
E-mail: BSchirmers@dbq.edu
Office: 229 Mercer-Birmingham
Fax: 563.589.3425

Bridget Schirmers was named the head coach for the women's lacrosse team in 2018. She most recently was assistant coach and Student Athlete Advisory Committee Staff Advisor at Indiana Institute of Technology. While at Indiana Tech, the squad won the regular season conference tournament and attended the NAIA National Invitation where they placed second in the nation.

A native of Coon Rapids, Minnesota, Schirmers was a standout on the field at the University of Dubuque, where she left as the career record holder for goals (132), points (165), shots (301), games played (58) and games started (56). She was named to the Collegiate Conference of Illinois and Wisconsin (CCIW) All-Academic and All-Conference Team in 2015. Schirmers was a four-year letter winner for the Spartans and a two-time captain. After graduation, she spent the 2016-17 academic year as an assistant coach at Clarke University, where she helped the team to a 4-7 record and a berth in the Kansas Collegiate Athletic Conference (KCAC) Tournament.

Schirmers is a 2016 graduate of the University of Dubuque and holds bachelor's degree in wellness and exercise science and is working on a masters degree in organizational leadership and management at Indiana Institute of Technology with an expected completion in May of 2019.

---

Abigail McClure

Graduate Assistant - Women's Lacrosse



Phone: 563.589.3240
E-mail: AMcClure@dbq.edu
Office: 220 Mercer-Birmingham
Fax: 563.589.3425

---
Past Seasons
Select a season for historical information and statistics